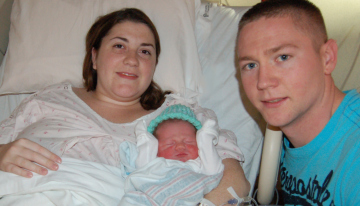 Centralia family welcomes first Boone Baby of 2013
Meet Grayson Masters. He is the first Boone Baby of 2013.
Grayson is the son of Angella and Chris Masters of Centralia. He joins big sister Addison, 2. He was born at 8:09 a.m. on Jan. 2 and weighed 8 pounds and 4.6 ounces.
Grayson is the first baby born at Boone Hospital following a record year for deliveries in 2012. Last year, 2,146 deliveries took place at the Boone Family Birthplace, the most ever recorded.
With multiple births taken into account, there were 2,206 babies delivered at Boone Hospital last year.
Congratulations to the Masters family and the Boone Family Birthplace as we look forward to a great 2013!