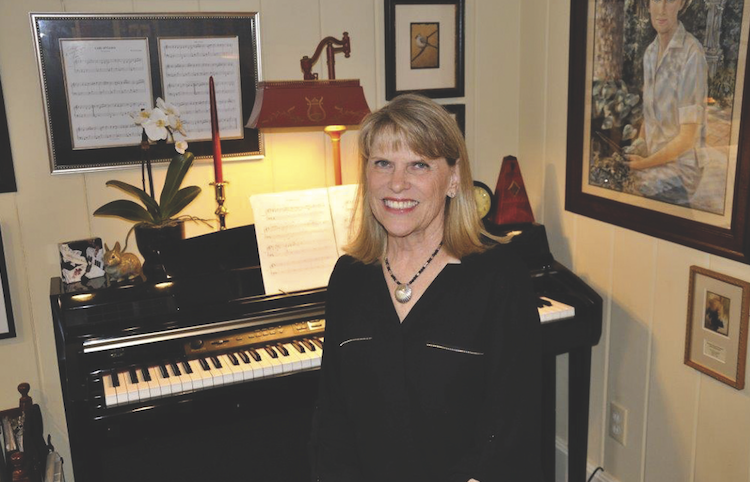 Composer Shares Joy with Patients
By Kim Getzoff
Grayson Neate Kabler was 60 years old when she discovered her greatest passion. The third-generation Columbia business owner spent years working in her family's store, Neates, at Ninth and Broadway. She was also an equestrian, travel agent and, most importantly, a loving caregiver for her husband, Kary Kabler. Kary lived with multiple sclerosis for more than 40 years and required around-the-clock care. It was during this time that Grayson began to look for something she could do in their home … something creative.
Grayson took an experimental piano lesson with music instructor Ken Ostercamp. After one lesson, she was hooked. "I came home from that lesson floating on air, Grayson says. "After a few months, Ken asked me to compose something. From then on, the piano would totally take me away."
That was 10 years ago. Grayson has since produced more than seven CDs and written more than 100 instrumental compositions on her piano. Her music is available on iTunes, Amazon and Spotify. She also produces her own CDs to give to friends, family and patients at Boone Hospital Center.
Columbia resident Tom Thomas was undergoing heart surgery at Boone Hospital when Grayson gave him one of her CDs. Thomas says the music was very calming and helped him relieve his anxiety.
"It was a nervous time, when sleep seldom came easily. Her music seemed to settle my thoughts and allow me to rest and often sleep," Thomas says.
Dorreen Rardin, a nurse and coordinator of Boone Hospital's supportive care program, has seen the difference music makes for patients who are struggling.
"It just calms them down and brings comfort," Rardin says. She now includes Grayson's donated CDs in comfort bags given to hospice patients before they go home. The bags contain a fleece blanket, stuffed animal, lotion, a journal and now a set of these calming CDs.
Grayson's piano is in a sunroom, with windows on three sides, overlooking her garden. With titles such as "Falling Snow," "Light On the Water" and "Summer's Day," it's easy to understand the feelings she tries to convey in her music.
"I get my inspiration from nature and I think people can feel that," Grayson says. She works every day on her piano and is still surprised by how her creativity has blossomed.
"If you talk to anyone who undertakes a creative process, they will tell you that there is no greater high," she says. "It can get you through tough times, and for me, it is pure joy."
Boone Hospital Foundation makes it possible for Grayson and others to donate their time and talents to help people in our community. Visit boone.org/foundation to learn how you can support our mission.