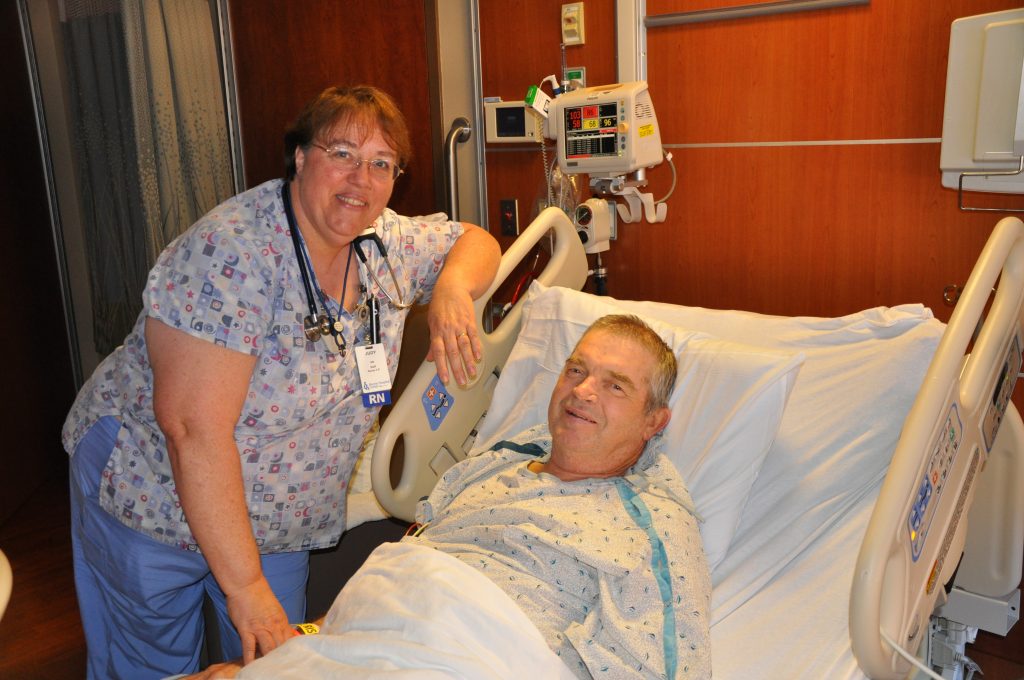 ECLS Saves Man Suffering From A Blood Clot In The Heart
By Madison Burke
"If that machine wasn't here, I probably wouldn't be alive!" says Donald Becker when asked about his recent recovery from a blood clot in the heart vessel.
The machine Donald is referring to is the hospital's Extracorporeal Life Support machine or "ECLS". The machine is a transportable tool that is able to do the work of a patient's heart or lungs. It works by using a sophisticated pump that temporarily replaces the function of the heart and lungs, essentially breathing for the patient by pumping oxygenated blood to vital organs so the lungs and heart can rest. This helps to reduce stress on the heart and lungs and allows the overall system to recover. Just last year, Boone Hospital Center became the first hospital in Missouri to have the transportable device for adults. Staff underwent extensive training for weeks to prepare to use it.
"The Boone Hospital Center Foundation paid $111,000 to train our nurses to use the ECLS machine. The Foundation recognized how important it is for our community to have a device like this, and we were happy to provide the training necessary," says Barb Danuser, Executive Director of the Boone Foundation.
Donald came into the hospital for a routine back surgery, but during recovery, it was discovered that he had a blood clot in his heart vessel. His heart failed, and caused Donald's condition to deteriorate rapidly. The ECLS machine pumped his blood for him for three days, until his heart was able to pump it again itself.
"It's just amazing. My doctors say I probably wouldn't have made it, if it wasn't for the ECLS machine," says Donald.
Cardiology Service Line Director Amy Begemann says that attaining the life-saving device is just another way Boone goes above and beyond to care for its patients. She says it also speaks to the team's ability to respond rapidly as only hospitals equipped to treat the most advanced cases can perform ECLS, since the technology requires a multidisciplinary approach of specialized physicians, nurses, respiratory therapists, laboratory technicians, pharmacists, and perfusionists.
"Mr. Becker is an excellent example of why we would enhance our cardio/pulmonary capabilities. We are so pleased that having the ability to use this device assisted in saving his life" says Amy.
Donald is now home in Macon Missouri where he enjoys spending time outdoors with his wife and visiting his children and grandchildren.
"It's crazy that my heart was stopped, and now I'm right back to normal. I will always be grateful that they had that machine to help me," says Donald.