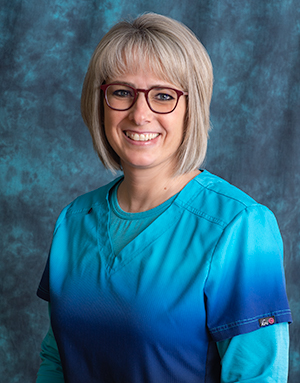 Our January BEE Award winner
Our first 2020 recipient of the Boone Hospital Center BEE Award is Denise Vaughn in Nuclear Medicine.
Nominator comments:
One of the most heartfelt and thoughtful people I have run into within the walls of the hospital is Denise Vaughn. I am so thankful that she was put in my life on the day of my myelogram. I was beyond nervous and on the verge of tears as they told me to roll over with a needle in my back. She asked several times to see if I was okay, and upon noticing I was not, began reassuringly rubbing my back. She was so sweet and helpful and was very understanding of my discomfort.
Two days later we would meet again, with me having an excruciating headache from the CSF leak the radiologist warned me of. When I called and explained my situation to Denise, she quickly contacted the doctor and was able to get me right in! I was so thankful because I had experienced the worst headache of my life!
Thankful, I rushed in and she brought me right back and got me comfortable. Denise drew blood as I was laying on my stomach on the table, crouching to keep me in the most comfortable position possible. She was even more caring and understanding of my situation, allowing me to stay as long as I felt necessary, rubbing my arm comfortingly as I was in tears from the pain and pressure of the blood patch. She hugged me and offered to bring me a drink while I waited for my ride. She hugged me as I left and I felt so cared for in that particular moment.
I am so thankful for her caring and understanding during my stressful procedures. Thank you from the bottom of my heart for caring for lonely old me even if I was a complete mess!
---
Boone Hospital Center presents the BEE Award for employees who Bring Excellent Experiences, to recognize them for Being Exceedingly Exceptional. The BEE Award was established by Boone Hospital Center to recognize patient care staff members who support registered nurses in delivering exceptional care to our patients and uphold our standards of excellence.