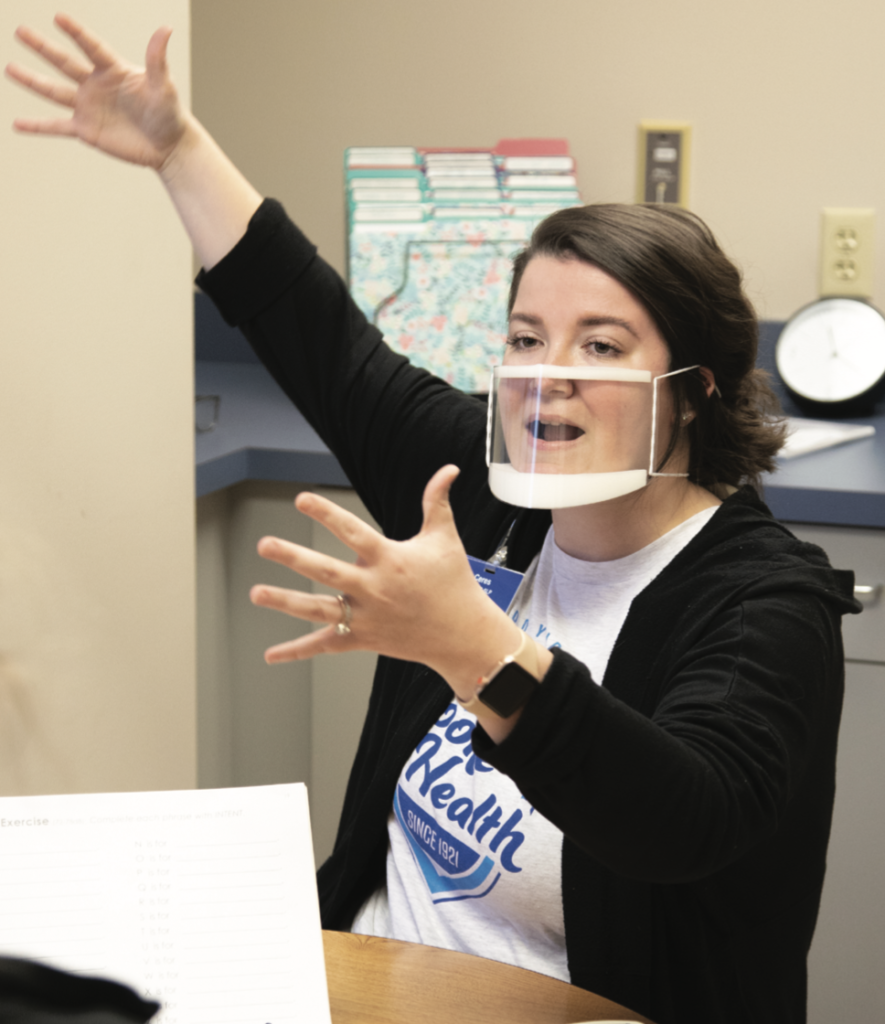 By Erin Wegner
After Gary Cannaday was diagnosed with Parkinson's disease two years ago, his voice became raspy and quiet. He noticed people had a hard time understanding what he was saying. He was also noticing new difficulty organizing his thoughts and maintaining conversations with friends and family. One of the
scarier things he began to experience was difficulty swallowing his pills.
He first spoke to his physical and occupational therapists who suggested he try speech therapy – this is how he was introduced to the SPEAK OUT!® Program at Boone Health.
"SPEAK OUT!® was founded by the Parkinson Voice Project® which is a nonprofit organization based out of Richardson, Texas," says Ceres Neff, Speech- Language Pathologist. "This therapeutic program was specifically designed for patients with Parkinson's disease and other movement disorders that mimic Parkinson's. The mission of this program is to preserve the speech and communication of these individuals through speech therapy, follow-up support, research, education and community awareness."
This Parkinson's specific speech therapy program utilizes a two-part therapy approach to strengthen and retrain the muscles used for speaking and swallowing by combining individual speech therapy sessions, referred to as SPEAK OUT!® with ongoing, weekly group therapy, referred to as The LOUD Crowd®.
The SPEAK OUT!® program includes one-on-one outpatient speech therapy sessions with a speech-language pathologist, or SLP. Working together, the patient and SLP go through a series of speech, voice, and cognitive exercises, emphasizing speaking with intent to convert speech from an automatic function to an intentional act. "Intentional communication is the focus of training, as purposeful movements are less reliant on dopamine, a chemical in the brain that depletes with Parkinson's disease," says Ceres.
Individuals diagnosed with Parkinson's disease, Progressive Supranuclear Palsy, Multiple System Atrophy, Corticobasal degeneration, or Essential Tremor who have noticed a change in their speech or voice may be appropriate for SPEAK OUT!®, and are encouraged to seek an order for speech therapy from their doctor.
"The program is specifically designed for strengthening and maintaining speech and voice, but by encouraging not only speaking with intent, but living with intent, we often see positive effects in patients swallowing and cognitive function as well," says Ceres.
Gary initially decided to try SPEAK OUT!® because he felt his voice was no longer satisfactory to him, and he figured he didn't have anything to lose. He says, "I've got to say, I've been really surprised how much of a difference it has made and am glad someone told me about this program."
Since his sessions with Ceres, Gary can swallow his medicine without feeling like he's choking, and his voice is back to more than 85% of his previous ability.
"I still have some problems," Gary says, "But I work on them every day, because I have seen the benefits of doing so."
"Early intervention serves this population best. All patients can make meaningful progress through speech therapy, but we have found that those who start treatment early into their diagnosis get ahead of the game and are able to use the strategies we teach to preserve their optimal function even longer," Ceres says.
"I have seen the remarkable effects of the SPEAK OUT!® program time and time again," she adds. "I find that most patients who get referred for speech therapy following a Parkinson's diagnosis are rather leery about what I can do for them. I think this comes from not knowing what options they have and worrying that their voice will never be 'normal' again. I hope to spread awareness that you do not have to settle with the speech, voice, swallowing, or cognitive changes that can accompany Parkinson's disease. You can absolutely take back control of your communication and swallowing if you are willing to put in some work while learning how to live with Intent."
As Gary reflects, "I now know how to fight the effects of Parkinson's. Speech therapy has helped me develop ways to take back my life."
For more information on the SPEAK OUT!® program, visit www.boone.health/therapy or call 573-815-3868 and ask to speak to a Speech-Language Pathologist.