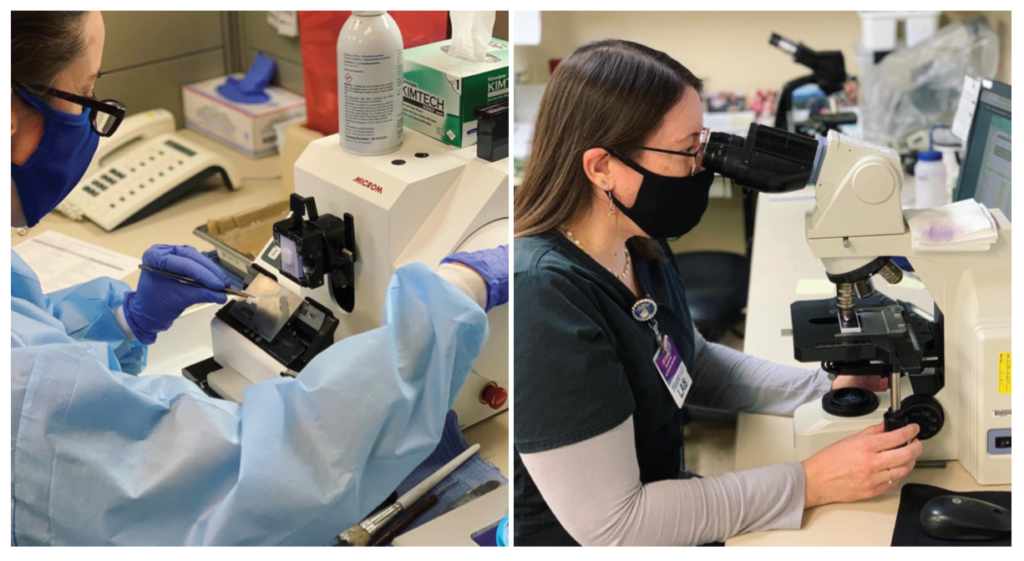 By Jessica Park
In January 2020, Drew Wilkinson, Director of Boone Health Laboratory Services, Ambulance Services and Emergency Department, had one thing on his mind – bringing Boone lab services to more communities. New outpatient draw sites were scheduled to open in Columbia and work was about to start on a location in Mexico, Mo.
"Everything was going fine and dandy," Drew recalls. "And then COVID hit."
Despite the challenges of the pandemic, the Lab Services team worked together to meet testing needs while giving more Boone patients easy access to our services.
Boone Health Lab Services is a 24-hour-a-day department headquartered at Boone Hospital Center, but their employees are everywhere, inside and outside the hospital. Couriers pick up samples from Boone clinics throughout the day and bring them back to the hospital for testing.
"We're a full-service lab, which means we do practically everything on site," Drew says.
"Practically everything" includes core lab tests, microbiology, blood banking, histology and pathology. Microbiology techs analyze samples for bacteria, fungi and viruses, such as COVID-19. Blood banking ensures that donated blood is safe and that the right blood is given to the right patient. Histology and pathology prepare and examine tissue samples to diagnose medical conditions. Having many services under one roof means patients and physicians spend less time waiting on results.
For uncommon lab tests, Boone Health partners with the Mayo Clinic. Samples are sent overnight to Minneapolis and results are usually ready the next day.
Adapting to COVID
Drew remembers the meeting on March 16, 2021, where the need to offer COVID testing to the community arose – along with questions on how to do that: "I took that as a challenge and said, 'Yes, we can do it.' I brought it back to the Lab Team and we rallied our resources."
Three days later, the first drive-through test site opened in the parking lot near the Emergency entrance. Drive-through testing made it easier to keep patients and employees safe. The Mobile Health Unit, on hiatus from community screenings, served as an office to receive doctors' orders, process insurance information, and prepare samples for testing.
Drew says the biggest challenge was setting up phones and computers in the mobile unit: "We knew how to take care of patients, but we needed help with data and power. Our fantastic Support Services and Information Services teams made sure we were up and running."
"At first, when testing supplies were limited, we prepared samples and sent them to another lab until we could do tests at Boone," says Heather Theberge, SM (ASCP), Technical Coordinator in the Microbiology Lab. It didn't take long for Heather and her colleagues to be able to perform tests on-site – and demand was rising.
"At this point, I can't estimate how many COVID tests I've given. Whenever we've had a surge, I could easily test over 100 people a day," says Sanitra Gibson, a Lab Associate III in the Boone Hospital outpatient lab draw site.
Sanitra collects blood and specimens from patients of all ages and has done a lot of pre-op COVID testing for people about to undergo surgery. Pre-op testing is done because COVID-positive patients could have more difficulty recovering from surgery.
Sanitra stays busy with patients, but she enjoys the work: "I'm a people person, so I enjoy it. I try to give each patient 200 percent."
Children occasionally look surprised when they first see Sanitra in her mask, gown, gloves and face shield, but most patients are now familiar with her personal protective equipment (PPE) and the process. She says, "I always ask people first if they've had a COVID test before. By now, most of my patients have."
Boone lab associates have similarly become familiar with collecting COVID test samples. A nasopharyngeal – or NP – swab is inserted in one nostril to collect cells from the nasopharynx, or naval cavity. In people with COVID, the virus is more concentrated in the nasopharynx than in the throat. NP swabs give more accurate test results than throat swabs.
Some lab associates started with limited experience taking NP swabs, but over time, Sanitra and her colleagues found ways to improve the experience for patients, like having patients tilt their head back or recline, and keeping tissues at the ready.
Sanitra says, "At first, patients would see the swab and ask me, 'Are you going to go to my brain?' Now most of them tell me 'That was the best swab I've had!'"
Whenever COVID surged in mid-Missouri, the drive-through site saw as many as 300 people a day. These tests landed on top of the lab's standard workload.
"We had so many COVID tests at one point, we literally had no time to run them all. Each test takes about an hour, and we have a set number of machines that can analyze samples. We can only go as fast as the analyzers let us," Heather says.
It occasionally became necessary to enlist help from an outside lab, but the Lab Services team also found ways to manage the influx of tests, like cross-training lab staff to help with the COVID testing process.
Drew says, "We had to creatively repurpose roles to focus on our biggest needs. When our outpatient sites were seeing fewer patients, some lab associates moved temporarily to the drive-through testing site. It was a big ask of them, and we greatly appreciated it.
"It really did take all of us to get the results out. Sometimes, our supervisors and managers were up all night to pitch in and ensure tests were completed because we know how much timely results mean to our patients and physicians!"
Despite the challenges, Lab Services has adapted well. In January 2022, when the Omicron variant caused a spike in testing needs, Drew and his team quickly set up a dedicated testing site at Nifong Medical Plaza.
"It was like getting back on a bicycle. We knew what we needed to do, we just had to pull together and get it done," he says.
Serving the Community
The COVID pandemic delayed but didn't halt Lab Services' plans to open new lab draw sites.
"We had a few delays with construction, but we opened our new locations at Broadway Medical Plaza 1 and Keene Street. We didn't have a ribbon cutting for either, but we still had a successful opening," Drew says.
In August 2021, the Lab Services team was able to cut the ribbon at their lab draw site in the Boone Health Mexico Medical Plaza, bringing the current total to eight lab draw locations, including six in Columbia and one in Moberly. Work is in progress for new sites in Centralia and Osage Beach, both of which are slated to open later this year. These new locations will make it easier for patients of Boone Health Medical Group primary clinics in Centralia and Osage Beach to have samples drawn for lab testing.
"When I became the Lab Services director, we only had one outpatient draw site at the hospital," Drew says. "We serve 25 counties, so that isn't convenient for a lot of our patients. Our physicians also wanted their patients get their labs done at Boone, because they know we hold ourselves to high standards and deliver timely results. Instead of making people come to us, we decided to go to them."
Drew says the lab draw sites have been popular with patients: "We get a lot of positive feedback that I share with the team. Patients tell us how much they appreciated the staff and share their great experiences. For example, a patient who had a history of challenging blood draws and bruising told us how Sanitra drew their blood, and they didn't have a bruise later. Even when they're half an hour away from the hospital, our lab draw employees are the face of Boone and part of our team."
To keep a lab running at all hours and adapt to changing needs requires a cohesive team and excellent communication.
"We're a family in the Lab," Sanitra says. "We help each other out. For example, I'll call Heather in Micro to give her a heads' up if a same-day surgery patient needs a rapid COVID test. Everyone works together to get the job done."
Heather agrees, "Everybody supports each other at Boone. If you need help, you can ask for it and receive it, even from other departments."
In February 2022, when a snowstorm was approaching, Lab Services staff didn't hesitate to ensure there'd be enough people on site, making plans to sleep in the department on air mattresses and to cover for coworkers who lived farther away ­– all before Drew even saw the forecast.
"They came together and perfectly planned it," Drew says. "I'm amazed at how our team always succeeds at something that seems unachievable. We'll always face challenges, but with the right people and processes, we'll come through."