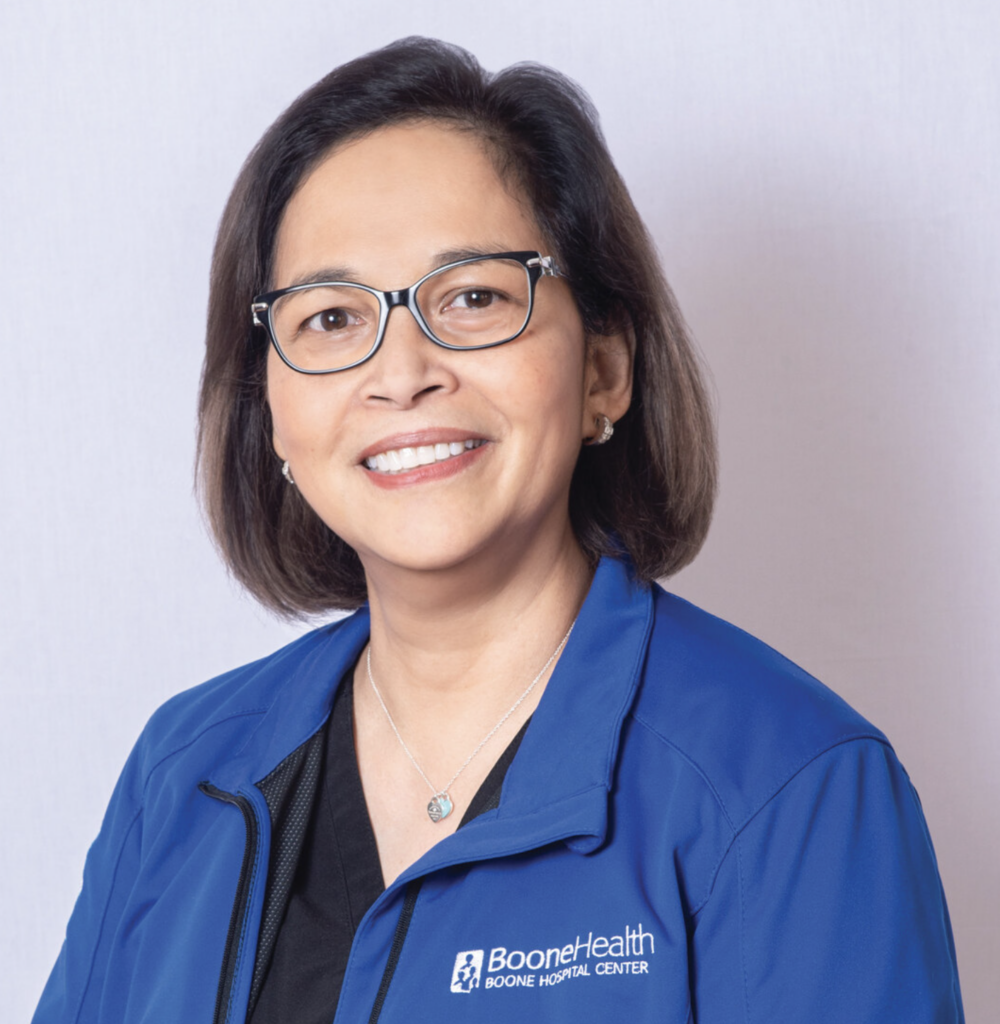 Meet Pearl Lariosa, MBA, BSN RN, CMSRN
I was born and raised in Cebu, Philippines. After receiving my Bachelor's in Mathematics, I was a research analyst for 2 years. Working with nurses during a research study led to a change of heart – I pursued nursing and graduated in 1988. 2022 will be my 34th year as a nurse.
I emigrated to the U.S. in 1990 and was hired by New York City Health and Hospitals Corporation under an H-1B Professional/Skilled Worker Visa and worked in one of the biggest trauma centers in Brooklyn for 5 years.
My husband is a physical therapist who came here under the same working visa. We decided to move to Jefferson City, Mo. and call it our home away from home – and for the new family we started, home! Our two children were born in Jefferson City and went to St. Peter's Interparish School and Helias Catholic High School. Both are University of Missouri alumni. My son earned a degree in Mechanical Engineering, and my daughter earned hers in Health Science, Pre-Med.
My nursing journey has been a rewarding one. When I relocated from New York to Jefferson City, where I worked at St. Mary's, I found it challenging to meet new people while raising a new family with no relatives nearby. My husband and I became each other's support system. As we settled in and became familiar with the area, we gradually felt at home. While the kids were at school, I decided to pursue my MBA. After graduation, I became a nursing instructor for the Practical Nursing Program. I taught at Nichols Career Center with the Jefferson City Public School District for 10 years. I stayed on for 4 years when the program transferred to State Technical College of Missouri, then joined Boone Health in December 2017.
Why did I choose to work at Boone? Why not Boone? This is the best place to work.
My daughter saw a Boone commercial on TV and said, "Mom, how would you describe Boone in one word?" Without hesitation, I said "Diversity."
The moment you enter Boone, you meet people of different ages, walks of life, emotions, and backgrounds. Where there is diversity, there is progress. The culmination of differences shows both moving and learning from each other instead of stagnation. In our different units, you see employees of different backgrounds, and experiences working together to provide safe and excellent care to patients, their families, and other members of the Boone community.
I continue to be a teacher – I just moved my classroom to the nursing floor where everything is real and hands on. You can hear lung sounds and heartbeats. You turn patients, provide skin care, distribute medications, and monitor vital signs. You talk to patients, physicians, and care team members face-to face. In my opinion, learning has no walls, you can learn anytime and anywhere.
My advice to new nurses is to be resilient. Be like flowing water – if you encounter a stone along the way, go around or above the stone. But never stop, and keep moving forward, even at a slow pace, you are moving.
Also, strive to a better person than you were yesterday. Even if you learn something small today or repeat yourself to perfect a skill, you are doing something to better yourself.
It is also easy for us busy nurses to forget to take care of ourselves. A healthy nurse takes care of their personal health, safety, and wellness, and lives life to their fullest capacity. A healthy nurse is a better role model, educator, and advocate for themselves, for the family, for the community, for the work environment, and, most importantly, for the patient.