Boone Health's Patient Care Services (PCS) team has a culture of staying focused; delivering outstanding compassionate, quality care; and realizing results – and our results are simply excellent!
For the five years in a row, Boone has been recognized both as a 5-star organization by Centers for Medicare and Medicaid Services organization and the number 1 hospital in mid-Missouri by U.S. News and World Report.
Learn more below about how our nurses are making Boone Health a great place to work and a leader in patient care!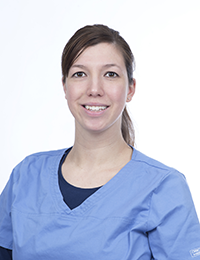 Professional Relationships
Jessica Parker- Staff Nurse, ICU
---
In the ICU, interprofessional relationships are enhanced through interdisciplinary care team rounds. The purpose of interdisciplinary rounding is to enhance seamless, patient-centered care facilitated by effective communication among care team members.
Rounds are held Monday through Friday at 0900. Members of the care team include the patient's nurse; Intensivist with his/her nurse practitioner, nurse or physician's assistant; case manager; dietitian; respiratory therapist; ICU clinical supervisor; and the social worker.
Each patient session lasts from 3 – 10 minutes and provides an efficient and effective way for the nurse to address multiple concerns with all members of the care team and coordinate care involving multiple physicians and the clinical staff. "Green Sheet" checklists guide the discussion and are updated daily with the patient's progress in the continuum of care and toward discharge.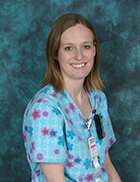 Recognition & Rewards
Amanda Cundiff - Staff Nurse, Neonatal Intensive Care Unit
---
One of the ways Boone Hospital Center recognizes and supports the growth and development of a nurse is through the Professional Nurse Development Program (PNDP). This program promotes the life-long pursuit of clinical expertise. The overall goal of the program is to provide opportunities for clinical nurses to experience professional growth and advancement which results in excellent care and patient outcomes.
The program is based upon the work of Dr. Patricia Benner which addresses these progressive levels of skill acquisition: novice, advanced beginner, competent, proficient and expert. The criteria for achieving each skill level are progressively more complex within the PNDP and require a defined amount of experience and knowledge.
Nurses demonstrate achievement within the levels and readiness to advance through clinical practice and submission of an exemplar; demonstration of leadership, professional growth and contribution by completing defined tasks; earning continuing education units; and excelling in a clinical skills evaluation that is conducted by the Clinical Supervisor.
 Nurses choose to participate in the PNDP program as they take responsibility for their own personal and professional growth, for financial reward and recognition of the work they do; and to ensure accountability for being a knowledgeable worker who can help patients achieve better outcomes.
Amanda shared, "participation in the PNDP provides a way for me to advance my career during a time when I am not ready to go back to school, but want to grow both personally and professionally; to be more efficient and organized; highlight my clinical skills and knowledge; and to feel rewarded for my efforts and work."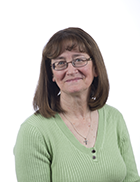 Patient Care Delivery Model
LeAn Smith - Staff Nurse, Women's and Children's Health
---
Nurses working in Women's & Children's Health must be prepared to manage pregnancy loss as well as successful delivery.  Following the Patient Centered Care Delivery Model, nurses work with the patient, family and members of the care team to identify, plan and support the unique needs of patients who experience the loss of pregnancy.  The patient and family are integral members of the care team where there is open communication about the family's values and their cultural and spiritual needs.  Nurses working with these families are dedicated to providing excellent and compassionate clinical care. This is accomplished through continuity in caregivers; providing a room for family and friends to gather nearby; coordinating food cart catering by Nutrition Services; assembling a memory box with photographs and other keepsake items such as foot and hand prints, photos, bracelets, a lock of hair and a gown or baptismal shell; and a sympathy card signed by the nurses and other care providers.
The interprofessional Fetal Demise Committee uses lessons learned from each experience to continually improve the quality of the care provided. With patients and their families as part of the care team we can achieve better outcomes, improve the care for all patients and increase staff satisfaction.