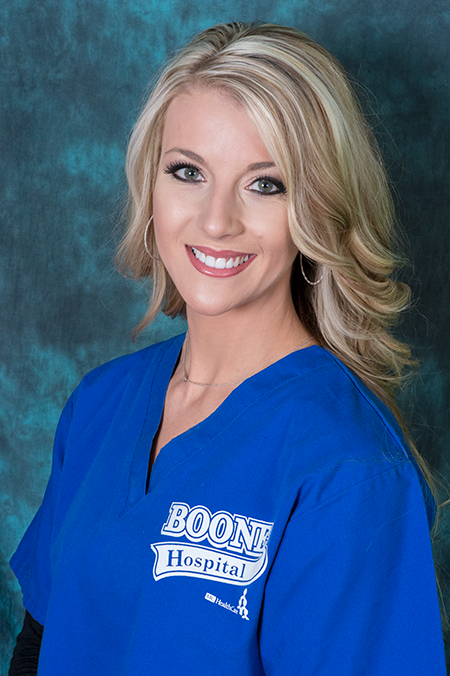 Emily Wood
Labor and Delivery
For Boone Family Birthplace staff nurse Emily Wood, it's all about family. After graduating from high school in her hometown of Palmyra, Mo., Emily came to Columbia for college, earning an Associates of Arts degree in 2012 and her Associates Degree in Nursing in 2014.
"During nursing school, I was fortunate enough to complete my Obstetrics and Pediatrics clinical rotation at Boone Hospital Center," Emily says. "The amount of enthusiasm, teamwork and passion exuded by each nurse within the department was incredibly gratifying. It's with great pride to say that my first job out of nursing school is right here at Boone's Women's and Children's Health department."
Six years later, Emily has made Boone Hospital Center and Boone Family Birthplace her second family and home away from home. She says, "One of the most difficult decisions that I've had to make was choosing to live and work 2 hours away from my family. When I visit back home, the question "When are you moving back" arises. This truly puts into perspective how important it is to love your job. I can easily say that choosing to work at Boone Hospital was one of the best decisions I have ever made. It never gets hard to walk into a family-like, welcoming atmosphere. I have built some of the most meaningful relationships with my Boone coworkers."
Family is also the key when Emily works nights on the Labor and Delivery and Postpartum units. She says her primary role as a nurse is to "ensure that the medical and emotional needs are adequately met by both mother and newborn."
Emily finds her job to be both deeply rewarding and challenging. She says, "We must be prepared to react and respond to all situations whether that means caring for a routine labor, preparing a patient for an early morning induction or emergency cesarean section, or running down to the emergency room at a moment's notice to help with the precipitous delivery of a newborn."
She understands that, as a Boone Family Birthplace nurse, she's present for a very emotional moment in a family. While most births are happy occasions, it's also important to know how to handle difficulties and support her patients.
"Working on Labor and Delivery, one of the hardest, most devastating situations our unit faces is caring for a mother and family who've experienced a loss. Our team goes above and beyond to provide individualized compassionate care to help the mother, father and family get through this difficult time," she says.
Her compassion makes a difference for patients. One new mother nominated Emily to receive Boone Hospital Center's first ever DAISY Award for nurses in 2018. She wrote, "Emily was the best nurse anyone could've asked for and I was lucky that she was mine. She was incredibly kind, sweet, compassionate, and I could tell that she genuinely cared about my baby, my family, and me. Emily provided me with constant reassurance that everyone would take the best care of my baby and me if anything were to happen. She was always willing to answer my many questions, talk to me about my worries, and comfort me when I was sad or stressed."
Emily is quick to credit the rest of the Women's and Children's Health Team for her success. She says, "I am so fortunate and honored to work in collaboration with the most well-rounded, dedicated health care professionals who continuously strive to provide safe, high-quality, patient-centered care."
She's also grateful that her schedule gives her the opportunity to make the 2-hour drive home to see her family. She says, "Outside of work, I love spending time with family back home. I am the proud aunt of my 7-year-old nephew, Crew, and 2-year-old niece, Auley.  We love spending our summers on the water-taking long trips to the ocean and weekend trips to the Lake."
Emily found out rather belatedly that she was our August 2020 Employee of the Month. She says, "I just finished my first shift of three after being gone from work for several days due to an illness. I froze in complete shock as my name was announced as the Employee of the Month for August! Timing is such a powerful thing. I could not be more grateful, honored and humbled."
Congratulations, Emily!
Nominate a Coworker for Employee of the Month