COVID-19 SCREENING  |  TESTING  |  VISITOR POLICY  |  ARRIVING AT BOONE
Keeping You Safe
Boone Hospital Center understands the concern COVID-19 has caused for our patients and communities. We are working to help you and your family return to the activities that bring you joy. Things may look a little different when you return to our facilities, as we are taking many important precautions to keep you and your family healthy and safe:
Screening all staff and patients
Continuing to thoroughly disinfect exam rooms between each patient visit
Maintaining visitor restrictions to limit the exposure to others during your visit
Reformatting waiting rooms to enable social distancing
Requiring face masks or coverings to enter our facilities
Staggering appointments to maintain social distancing and keep a comfortable waiting room environment
UPDATE: Visitor Policy
Boone Hospital patients who are not COVID-positive may have two designated visitors per day. All visitors must be over 16 years old and will be required to undergo entry screening, wear a mask at all times and maintain social distancing.
Boone Medical Group will also allow for two visitors per patient during clinic appointments.
Boone Health's Incident Command Center will continue to monitor data trends and make adjustments to policies accordingly.
We appreciate everyone's cooperation and flexibility as we balance providing exceptional care with protecting our patients and staff during the pandemic.
Any other exceptions must be reviewed and approved on an individual basis. Talk to your provider if you have specific questions about visitors during your hospital stay.
Testing
If you are experiencing severe symptoms, call 911.  If you are experiencing mild symptoms, please follow the procedure below.
First, you will need an order from your provider.  Call your primary care provider to see if you qualify for testing.  If you don't have a primary care provider, follow this link to the Screening Tool.  For language services, you can call 855.747.1977.  If you qualify for testing through this process, an order will be sent directly to our testing sites.
Review this helpful guidance regarding testing from the City of Columbia.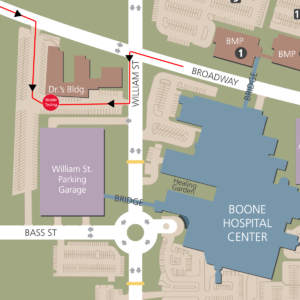 Due to a significant decrease in volume, Boone Health will be closing its drive-thru testing site after Friday, March 12.
Patients who need a COVID-19 test can use any of our other lab draw locations
Our drive-thru testing site is open Monday-Friday, 7 a.m.-3 p.m.
You will remain in your car the entire time.
You will be asked for you provider order (can be in-hand or submitted electronically by your provider), a photo ID and your insurance card if available.
There is no out-of-pocket cost for COVID-19 testing.
After being tested, you will be provided information on home isolation until your results have come back.  Boone Hospital Center cannot provide you with your testing results.  Your results will be given to you by your ordering provider.
Arriving at Boone Hospital Center
Our hospitals and doctors' offices have taken the recommended safety precautions. While things may look a little different for a while, we pledge to provide the same high level of compassionate care to you and your family.
WHERE TO GO
Please refer to our Campus Map
Patients arriving at Boone Hospital for the Harris Breast Center, outpatient surgery, ultrasound, nuclear medicine or pre-surgery services may park in lot 2 and use entrance H, the Outpatient Tower entrance located at the south end of the main campus.
All other patients and visitors should park in lot 6, the William Street Parking Garage, or lot 4 and use the main entrance, or lot 16 and use the Emergency Department entrance when appropriate.
TESTING
At this time, patients coming in for surgeries and some procedures are required to be tested for COVID-19 as part of the standard pre-procedure process. We will work with you to schedule the test and refer you to the proper testing site. If needed, you will have your COVID-19 test 48-72 hours in advance of the scheduled procedure, and then will need to quarantine yourself between the testing and the procedure to reduce your risk of exposure.
For those coming in for an office visit, our staff will guide you through temperature and wellness checks prior to your appointment.
MASKING
Patients, visitors, and staff will wear face masks at all Boone Hospital facilities. Masks can be cloth. Masks with exhalation valve are not permitted. Please review our mask instructions prior to arrival. If you don't have a personal mask, the Boone Hospital location will be happy to provide one.
CHECK-IN
We have re-designed our registration process to reduce contact. You will notice additional clear shields around front desk areas and reconfigured waiting rooms. This is intended to protect against virus transmission.
At some of our clinics, you may remain in your car and complete most of the registration over the phone. Then, a member of your care team will provide instructions for you to safely enter the facilities.
SOCIAL DISTANCING
Signs and floor decals are being installed throughout our facilities to illustrate the six feet recommended social distance between you and others. Chairs in our waiting rooms and tables in our cafeterias have been rearranged to comply with spacing recommendations.
CLEAN COMMON AREAS
In addition to our normally stringent cleaning protocols, our environmental services team has increased its sanitization protocols around the facility. You may see additional people wiping down handrails, elevator buttons and chairs throughout the day. Hand hygiene stations are positioned throughout the facility to encourage frequent hand-washing.
CAFETERIAS
Patient meals continue to be prepared in a designated, clean spaces with limited traffic. Additionally, our food and nutrition team has made several changes to reduce the need for staff or visitors to interact with high-touch items in the public cafeterias. Electronic payments are requested in lieu of cash. A member of our food and nutrition team will be happy to serve all the options rather than asking people to self-serve at salad bars or other stations. And, a full array of bottled or canned beverages is available to eliminate the uses of refillable cups or water bottles at this time.
PATIENT ROOMS
To help protect you the entire time of your stay, we continue to use products in line with CDC recommendations, and our environmental services teams remained focused on proper protocol to disinfect high-touch areas in patient rooms such as door handles, light switches, and tables. The lounging chairs in patient rooms are made of textiles that are easily cleanable. And, traffic in and out of patient room is limited to essential staff and visitors.