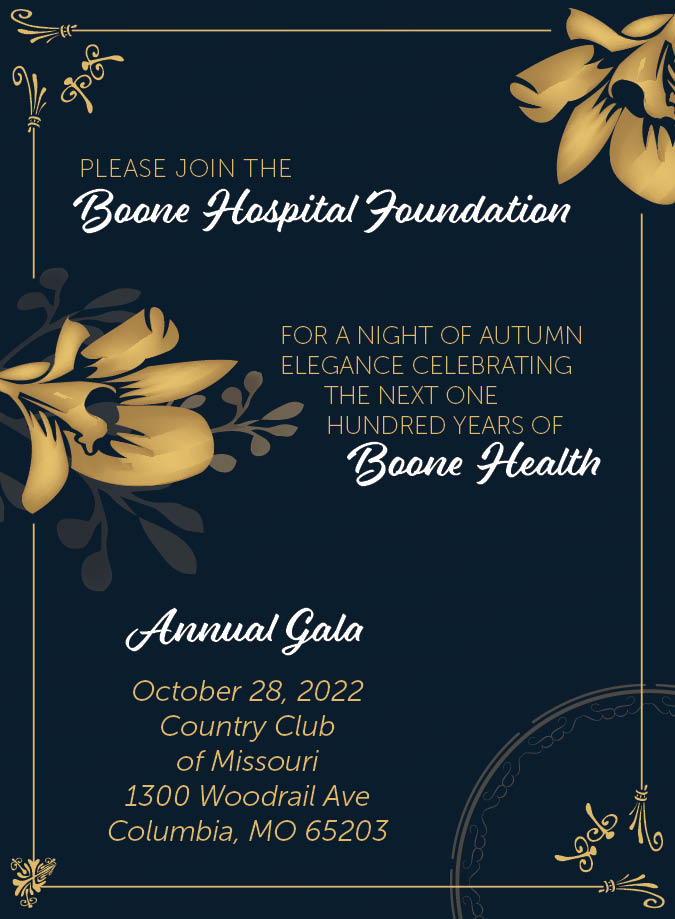 To reserve your ticket, table or sponsorship, click here. Thank you for helping us celebrate the next 100 years of Boone Health!
We are thrilled to host our annual gala at The Country Club of Missouri for the first time. Please note that this venue holds a smaller capacity than venues from previous years. Please reserve your tickets, sponsorships, or table(s) at your earliest convenience to ensure attendance.
Schedule For the Evening
6:00: Cocktail Hour & Hors D'oeuvres
7:00: Plated Dinner
Evening Program Begins When Dessert Is Served
8:00 Entertainment: Norm Ruebling Band
Other Helpful Information
Attire for the evening is formal, but black tie is optional.
If you're facing The Country Club of Missouri from Forum Boulevard, the event center will be the entrance farthest to the left.
Upon entry, please check-in at the registration table, and our volunteers will let you know your table number.
Cocktail hour will be hosted beer and wine, but the duration of the evening will be cash bar. Please note that The Country Club of Missouri does not take credit cards, so please bring cash if you'd like to purchase any drinks after cocktail hour.
When you register at the link above, if you are purchasing an individual ticket(s), please be sure to designate if there are other guests purchasing individual tickets that you'd like to be seated next to.
If you prefer to register in-person or over the phone, rather than online, please give us a call at 573-815-2800.
Please reach out to the Foundation Office if you have dietary restrictions and we will accommodate you.