The Harris Breast Center at Boone Hospital Center offers the latest options in early breast cancer detection technology to our patients.  The Harris Breast Center offers patients the option of receiving a standard 2D mammogram or a 3D mammogram using tomosynthesis.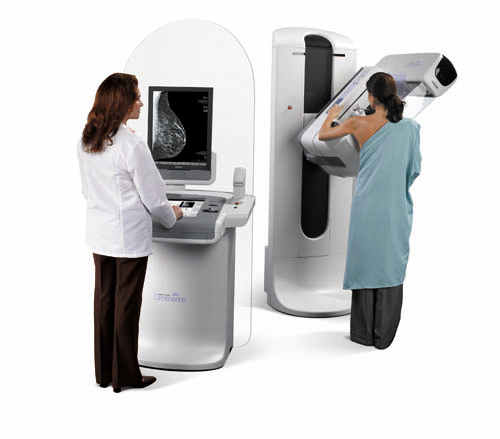 What is 2D Mammography?
Standard, digital 2D mammography is still one of the most advanced tools available for detecting breast abnormalities.  2D mammography takes a flat image of the breast in which the breast tissues are shown as overlapping.  For patients with dense breast tissue, the images may appear cloudy with 2D mammography technology alone.
What is 3D Mammography?
Digital 3D mammography, also known as Breast Tomosynthesis, is an imaging technology approved by the FDA that is designed to provide clearer, more precise images of the breast tissue that can help identify changes in the tissue, including those suspicious for breast cancer.  3D mammography has been available at Boone Hospital Center since 2012.
How is 3D Mammography different from other mammograms?
3D mammography uses a computer to take several smaller images within seconds, providing a view of the breast tissue in thin slices.  The breast tissue can be examined one thin layer at a time, allowing the doctors to see different structures within the breast, as well as the location, size and shape of any abnormal tissue.  Fine details, such as small cancers, are more visible and less likely to be hidden by overlapping tissue.
Are there any risks with 3D Mammography?
3D mammography uses very low x-ray energy during the exam.  The amount of radiation is below the recommended American College of Radiology guidelines and just slightly higher than 2D mammography.
Can I choose whether or not to receive 3D Mammography?
Yes.  3D mammography is an optional addition to our traditional 2D mammography exam.  Even if you do not select 3D mammography, 2D mammography remains an excellent choice for breast cancer screening.
Patients with Medicare, Medicare Managed Care, or Medicaid plans can receive 3D mammography as a covered benefit at no additional charge.  For all other plans, please contact your insurance company with questions regarding coverage for 3D mammography services.