I hope they see our names and identify with what Virginia and I have been through and the challenges we faced. I think they'll see two people who fought the cancer battle and came out stronger on the other side.
- Norm Stewart, head basketball coach and cancer survivor
The Mizzou Tigers were simply off the mark. The packed Hearnes Center crowd was getting nervous. Norm Stewart's team was ranked fifth in the nation, riding a 10-game winning streak.
But here they were, struggling to score against the unranked Kansas State Wildcats. It was Feb. 4, 1989.
At the half, the Tigers walked off the court tied with the Wildcats. They had scored only 28 points. A major upset was brewing. Coach Stewart had to regroup. In the locker room, his players suggested getting the ball to center Gary Leonard and Mizzou's big men, who had a major size advantage over Kansas State's relatively small frontline.
The strategy worked. Leonard was nearly unstoppable, scoring 12 of the Tigers next 22 points. Mizzou built a nine-point lead. "Leonard pretty much did anything he wanted to," Kansas State Coach Lon Kruger told reporters after the game. But the Wildcats fought back, twice cutting Mizzou's lead to one point. In the game's final minute, Kansas State, trailing 69-66, took possession.
As the Wildcats worked the court, looking for an open three-point shot, one of Stewart's Tigers jabbed at the ball, knocking it off a Wildcat and out of bounds.
Kansas State was forced to foul. Mizzou hit its free throws and escaped with a 73-68 win.
"It was a good win, especially for the situation," Norm told reporters after the game.
It was one of those classic Norm Stewart basketball triumphs. Even when things weren't going as planned, Mizzou forged together and found a way to survive.
These are the difficult games that pay dividends down the road.
It is the kind of battle that makes a team stronger. Bigger challenges were ahead.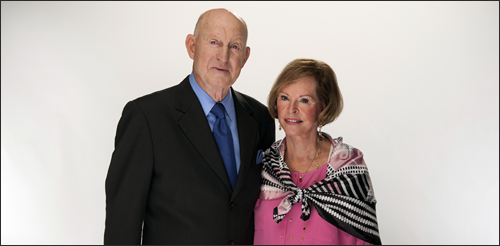 Change of plans
After the Kansas State victory, the Tigers were on top of the world.
They were the country's first team to reach 20 wins. They were leading in the Big Eight and ranked third in the national poll — their highest position in seven years.
It was an electrifying time for the team and Mizzou fans across the state.
But while excitement built around his team, Coach Stewart had new concerns at home.
In days, his wife, Virginia, was scheduled to have a complete hysterectomy. Doctors had discovered a growth. They feared it might be cancer, but wouldn't know for sure until after the operation.
Virginia was Norm's college sweetheart, the love of his life, his biggest fan and supporter. They met at Mizzou. She followed him during his short career in professional sports and was by his side as he found success as a coach.
Now, she might have cancer.
As Virginia was prepping for surgery at the hospital, Norm and the Tigers were on a plane bound for Oklahoma.
The close victory over Kansas State was a character-builder. But taking on the University of Oklahoma Sooners would be far more difficult. The Sooners had narrowly lost the national championship the previous season. They looked even better this year. The whole college basketball world would be watching this one.
But Norm never made it to the game. He became dizzy on the airplane and collapsed mid-flight.
Doctors in Oklahoma City thought he might have a bleeding ulcer and sent him back to Columbia.
Although she was heavily medicated, Virginia remembers a basketball assistant coming into her hospital room and telling her Norm was coming back unexpectedly. "I thought that was strange," she said.
Back in Columbia, doctors examining Norm discovered a large mass on his colon. Like his wife, he would need surgery to remove the tumor.
After their surgeries, doctors found that Virginia's tumor was benign, but Norm's was cancer. Even worse, it had already spread to one of his lymph nodes.
It was great news and awful news all at once. It seemed like one of the most bizarre and dark twists imaginable.
But, like the best Tiger teams, the Stewarts rallied against adversity. They'd find victory yet.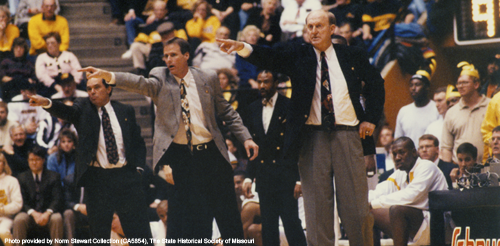 Time out
While experiencing some of the greatest success of his career, Norm was suddenly faced with an illness that threatened his life.
As he underwent chemotherapy, Norm was forced to take a personal time out — he stepped aside from basketball. The Kansas State game was the last time he coached that season. His assistant took over and guided the team to the Sweet 16.
After their oddly synchronized surgeries, Norm and Virginia recuperated together. It was a strange and painful time — but also a blessing.
With his travel calendar erased, Norm and Virginia suddenly had more time to spend with each other than they'd had in years. They made the most of it.
Between Norm's chemo sessions, they traveled together and spent time at the beach. Although they were still weak, they'd spend hours walking slowly across the sand.
Other times, when Norm's famous nonstop energy was simply zapped, they cherished the opportunity just to sit together.
"He had always been like a whirlwind, but chemo changed him," Virginia said. "It was almost like a different person. For once he wasn't always running around. All he wanted to do was sit and get better."
During their time healing, Norm and Virginia also rediscovered what brought them together in the first place.
"The recovery was almost like a rebirth for our marriage and our love for each other," Virginia said.
Away from the game, Norm also had a chance to reevaluate his life.
"Cancer was my first look at mortality," he said. "Yet, I've had so many good things come from it, I've often wondered why I didn't have it earlier."
During chemotherapy, Norm learned about the value of having a broad support system. He saw the many resources and organizations that help families struggling with cancer. He also learned about the research aimed at helping patients and curing this disease.
He began to realize he might have a calling beyond the hardcourt.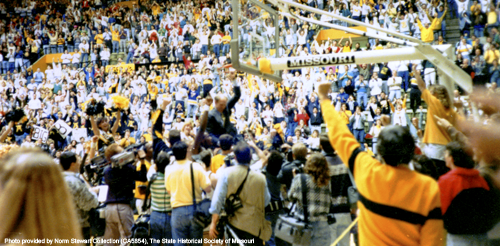 Beyond the arc
A couple years after Norm defeated cancer and returned to basketball, Jerry Quick of the American Cancer Society approached him with an idea: Why not start a program where businesses donate for every three-pointer made by the Tigers?
In 1992, they decided to give it a shot. It was soon clear they were on to something.
"It was an immediate success. We later took it to the National Association of Basketball Coaches, and they adopted it," Norm said. "We continued to grow on that over the years. Today almost every major coach in the United States is a part of our Coaches vs. Cancer program."
This year, Coaches vs. Cancer will celebrate its 20th anniversary. It's closing in on raising $100 million to fight cancer.
The coaches program has spurred other cancer fundraisers as well, such as the Norm Stewart Classic basketball tournament and CEOs Against Cancer.
Fighting cancer became a new passion for Norm and Virginia. It's something they've continued to focus on long after Norm's retirement in 1999.
Now, in partnering with Boone Hospital Center, he and Virginia hope to take their work to another level.
Through the Virginia and Norman Stewart Cancer Center, the couple hopes to help improve cancer care in mid-Missouri and encourage local residents to be screened.
"It's about being able to teach people that it's so much easier to be screened than to have to go through that horrible disease," Virginia said.
Their names will also serve as an inspiration to people fighting cancer. After all, it's the kind of diagnosis that can knock any patient off their game.
But with a solid plan and a fighting spirit — like Norm's best Tiger squads — adversity can bind a team together and unlock a new path toward victory.
"I hope they see our names and identify with what Virginia and I have been through and the challenges we faced," Norm said. "I think they'll see two people who fought the battle and came out stronger on the other side."