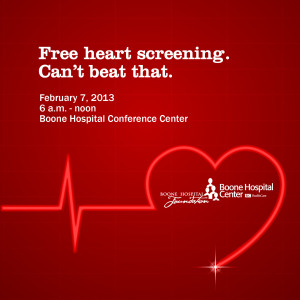 The Boone Hospital Center Heart Fair is February 7
Boone Hospital Center is expecting another large turnout for the 2013 Heart Fair. Last year, more than 600 people attended this free, informative screening event.
At this year's Heart Fair, people will become educated about various risk factors that could lead to heart problems. Attendees will also receive a full cholesterol panel, as well as blood glucose and body mass index readings and blood pressure checks — all free of charge.
"Heart disease remains the leading cause of death in the United States. Yet there are so many things people can be doing to help reduce their risk," said Jeff Zimmermann, Health Promotions Manager, Boone Hospital Center's WELLAWARE program. "We hope that when people leave the Heart Fair, they will leave with a better understanding of what it takes to have a healthy heart."
The Heart Fair is 6 a.m. to noon on Thursday, Feb. 7, at the Boone Hospital Center conference center, located inside the hospital main entrance. Screenings between 6 – 8 a.m. are by appointment only. Appointments and walk-ins are welcome from 8 a.m. – noon.
Register by calling 573-815-6400 or 800-872-9008.