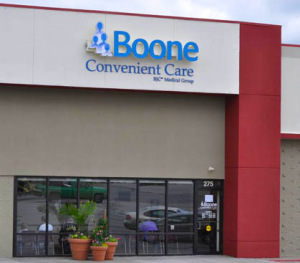 Boone Convenient Care "went above and beyond my expectations"
By Heidi Ennenbach
Heidi, of Columbia, shared this story via the myBooneHealth.com online submission form. Click here to share your story.
My story starts after eight miserable days of GI upset, weakness, and abdominal pain. I'm a nurse, and well, we make terrible patients.
I had convinced myself that it was just a virus and that if I stayed hydrated and rested, with time, my symptoms would subside and life would return to normal. The evening of day eight, my husband was insistent that I see a doctor and demanded that I go to the emergency room.
I relented but told him I thought this was probably a problem better suited for Boone Convenient Care. I had been there once before and received excellent care.
This experience went above and beyond my expectations.
When we arrived at 6:40 p.m., I realized that they closed at 7 p.m., not 8 p.m. Sensitive to their hours, I asked the girls at the front desk if it was too late to be seen.
She pleasantly answered, no, and took my information. Within minutes I was called back to a room. I was very nauseated and weak.
Kelli Cash RN, FNP, was there in moments and took a lot of time to go over my symptoms and my history. She was patient as my 2-year-old ran around the room like a crazy man who was nearing bed time. She offered him crayons and a coloring book and put me at ease.
Kelli quickly diagnosed my problem, prescribed the correct medications, and E-scribed them so I would have no wait at the pharmacy. I was feeling so miserable she took some blood work and wanted to start some IV fluids and give me some IV medications to treat my symptoms.
I told her I knew the clinic was closed and that I didn't want to keep her late. Kelli said she thought I needed them, that she didn't mind and that she would do anything to help another good nurse feel better.
We left the clinic over an hour after closing. I left feeling a little better and also realizing that Kelli didn't just do that for me because I am a nurse. Kelli would have done that for anyone, because she is a kind, compassionate, professional.
This is another reason why I will continue to use Boone Convenient Care for myself and my family.