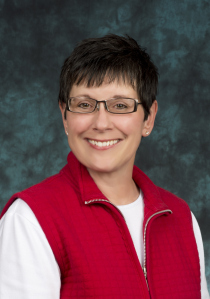 Nurse loves serving patients in cardiac rehab
As she helps patients recover from heart surgery, registered nurse Marla Jones enjoys watching them regain strength and learn to live healthier lives.
Education is a big part of Marla's job in Cardiac Rehab. She teaches wellness and preventative practices to help patients avoid future heart problems.
"I love working love working in Cardiac Rehab," she said. "I work for, and with, an amazing group of individuals. I cannot imagine a more perfect career than working here."
It's a job that allows her to spend months with her patients and truly get to know them as individuals.
"It's just really cool," she said. "Sometimes I get to see them from right after the procedure and then through the end of their rehab. I absolutely love it."
Marla grew up in southeast Colorado and later attended high school in Iowa. She chose her career after a high school aptitude test determined nursing would be a good fit.
She later graduated from William Jewell College in Liberty. She's worked at Boone Hospital for the past 11 years.
"I've lived in a lot of different places and I've worked at a variety of places, so I have a pretty good idea of how Boone compares," she said. "I think Boone offers excellent patient care and it's a great place to work."
When she's not at Boone Hospital, Marla enjoys spending time with her family and friends, including her husband, Michael, and their two grown children.
She also loves gardening — flowers, vegetables, you name it.
"I just like to dig in the dirt," she said. "I even like pulling weeds."