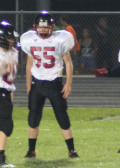 Mom thanks staff who helped mend her son's foot injury
By Sara
Sara, of Hartsburg, shared this story via email. Click here to share your story.
My son, Brett, came to your ER last night with an injured foot. Your staff was so helpful and friendly!
Dr. Scroggins was very reassuring and Brian Lewis who wrapped his foot was really great. Brian noticed that my son had football pants on that we wouldn't be able to get off after the splint, so he got him other pants to wear.
He noticed that a nurse got him crutches that were too tall so he got him a different pair. I really can't thank your staff enough for all their great care!