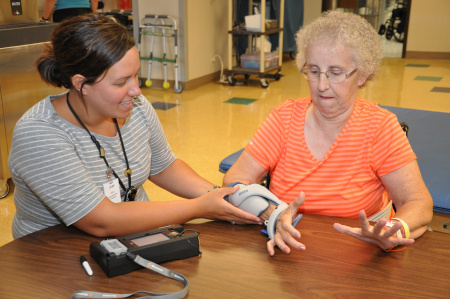 Boone Therapy and Bioness: 'It's amazing what they do here.'
On Thursday, July 24, Boone Therapy will offer free screenings for those who have lost hand or leg function due to stroke, brain or spinal injury, or other neurological disorders. Read below to learn how Boone Therapy uses the Bioness to help a stroke patient regain her mobility and independence.
When Karen Holbrook of Farber, Mo., realized she was experiencing the symptoms of a stroke, there was only one place she wanted to be: "I had to take a helicopter here, and I told them, 'You get this in the air, and you land at Boone. If you land anywhere in-between, I won't ride with you anymore.'"
On June 10, Karen was admitted to Boone Hospital Center. She stayed for approximately three weeks in the Rehabilitation Unit and received physical and occupational therapy to help recover lost function on her right side. During her therapy sessions, Karen was outfitted with a device, the Bioness H200 Wireless system.
Jess Stuart, an occupational therapist with Boone Therapy, explains, "The Bioness is a functional electrical stimulation unit that helps to facilitate movement that has been lost due to a stroke, brain injury, spinal cord injury or other neurological disorders."
The system can help some patients improve their range of motion and function, reduce muscle spasms, improve circulation and reduce loss of muscle in the affected area. Karen uses the device designed for the hand. There are also Bioness units for lost function in legs and feet. The H200 consists of a lightweight orthosis that is positioned to fit the hand and forearm. A wireless control unit communicates with the orthosis to send mild electrical impulses that switch on the nerves controlling the muscles in Karen's hand and forearm. Jess also uses a portable device that allows her to program and track Karen's activities with the Bioness.
Used in conjunction with an occupational therapy program, the device can help re-educate the muscles used for reaching, grasping and opening and closing her hand. The lower extremity devices used with physical therapy programs help to re-educate the muscles used to elevate the foot during walking in order to prevent tripping.
"We first started working on Karen's grasp," Jess says. "She had a very weak grasp when she started. Now she can squeeze your hand with some power.
"We use Bioness devices in conjunction with other forms of therapy, for patients in the hospital and those that use our outpatient clinic in Broadway Medical Plaza 1," she continues. "There are many activities we can do with it. I use it often for weight-bearing exercises with the hand, to rebuild sensory input to the shoulder and elbow."
"Since she's started me on that," Karen says, "I've been able to straighten my elbow."
Use of the Bioness isn't limited to therapy sessions; the devices can be safely worn every day for most activities. An occupational therapist or physical therapist helps with fitting the device and programming the proper impulse intensity suitable for the individual patient's needs. They also teach the individual how to properly use the device during functional activities. Wearing the Bioness as she opens and closes her right hand, Karen says that the impulses are painless. She is working on getting a personal H200 unit to wear at home.
"More and more insurance programs are starting to cover Bioness systems," Jess says. "Someone like Karen, who's very devoted and determined with her rehabilitation, will definitely use it. For example, at home, she can use it to help her be able to open a door."
Karen, who is determined not to let her stroke slow her down, says the Bioness and Boone Therapy have really been helping her, as part of the care she's received since her helicopter landed at Boone Hospital Center. "I came to Boone because they specialize in stroke. It's amazing what they do here."
…
If you have trouble walking or using your hand as a result of stroke, multiple sclerosis, brain or spinal cord injury, or cerebral palsy, Boone Therapy can help you regain independence and get back into a more active lifestyle by utilizing various treatment techniques, including possible use of the Bioness wireless technology.
Boone Therapy will offer free screenings to see if Bioness is right for you on Thursday, July 24, from 8 a.m. until 3:30 p.m. For more information, please contact Boone Therapy at 573.815.3868.
If you are unable to make it to this screening, you likely would still benefit from an evaluation by a physical therapist or occupational therapist. Please call Boone Therapy to set up an appointment.