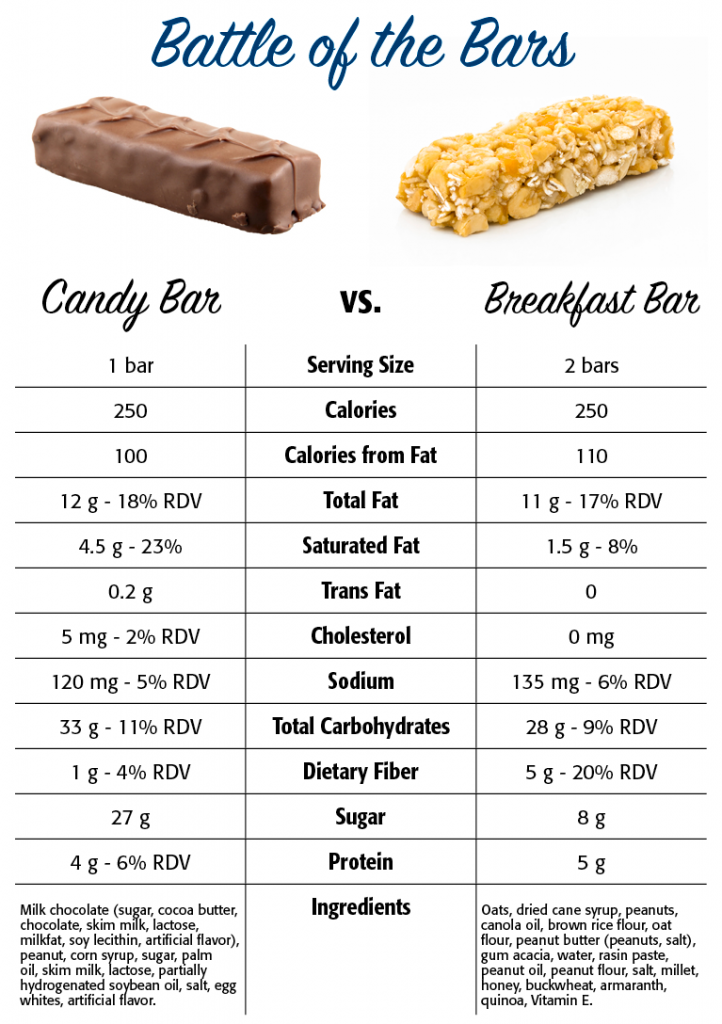 by Lori Bohnenstiehl, WELLAWARE dietetics intern
One morning, I popped my Kind breakfast bar into the microwave and excitedly waited for the timer to go off. The reason for my excitement? This bar tasted like a peanut butter cookie.
Then a question crept into my mind: Is my breakfast bar any better than a candy bar?
I was running and didn't have time for a different breakfast plan that morning, so I grabbed my hot tea and breakfast bar and ran out the door. While at work the question about my breakfast bar kept coming to mind. So, being in the field of health and nutrition, I decided to investigate the matter.
Comparing them side by side and using the 20/5 rule (where 20% is high and 5% is low) didn't make me feel better about my breakfast bar choice. The Kind Bar is just as high in total fat as a Snickers bar. But where does the fat in the Kind bar come from?
The next thing to do is look at the ingredients. The ingredient list for the Kind bar revealed this product has canola oil (monounsaturated) and peanut oil (polyunsaturated fat and monounsaturated fat). Both are healthy fat, which gives me some comfort about my choice.
However, my breakfast bar is low in protein. That's why I'm hungry about two hours after eating this bar.
If a bar is going to replace a meal, it should provide the nutrients you'd typically get from a meal. The ideal meal varies from person to person depending on their needs, but it should have around 20 grams of protein, 500 calories and 45 grams of carbs.
By adding these on the side, I've made my breakfast bar into a more complete meal:
14 pieces of 2% reduced-fat cubed cheese (240 calories, 14 g protein)
1 cup of grapes (62 calories, 16 carbs)
Total: 533 calories, 44 carbs, 19 gram protein
Or…
2 hard-boiled eggs (156 calories, 12 grams protein)
1/2 small banana (45 calories, 11.5 carbs)
Total: 431 calories, 39.5 carbs, 17 grams protein