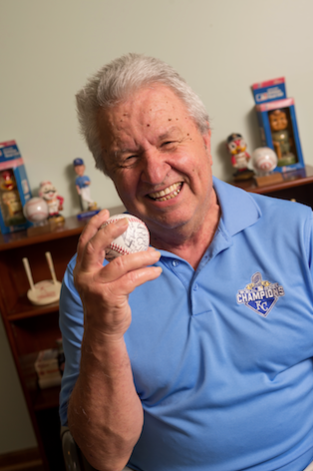 Boone Hospital Team Treats Rare Neurological Disorder
By Jacob Luecke
Joseph Wilbers was well on his way to accomplishing one of his life goals—seeing every Major League Baseball stadium.
Each summer, Joseph, 69, joined his wife, children and grandchildren for a sports-centric vacation. Over the years, they had visited about 20 of the nation's 30 baseball stadiums.
For 2016, the family planned to travel from their Wardsville home to see the oldest and most famous baseball stadium of them all—Fenway Park in Boston, home of the Red Sox.
But as the trip approached, Joseph noticed his health was on the decline. He was falling regularly and having trouble just getting around. As he walked, he would stare at the ground, shuffling his feet in a manner that quickly wore out the soles of his shoes.
"It was almost like he had aged 20 years in six months," says Joseph's wife Janet Wilbers.
As his health continued to worsen, Joseph told his family that he couldn't make it to Boston. It was the first time he had ever missed the family vacation.
"I felt like I'd be holding them back the whole trip," Joseph says.
In some ways, Joseph's symptoms pointed toward Parkinson's disease, an incurable nervous system disorder. The possibility that he might have Parkinson's became a major concern for Joseph. He had to cope with the thought that he might never get better. Janet saw him becoming depressed.
"With his illness, he would just sit in a chair and have no interest in doing things," she says. "It seemed like there was nothing up ahead for him."
The sudden change in Joseph's health was hard on the whole family, even his three-year-old grandson, Sawyer. Ever since he was a baby, Sawyer had spent his weekdays with Joseph and Janet. The boy had a close relationship with his grandfather. It saddened both Joseph and Sawyer that the two couldn't play together any more.
"I couldn't really do anything with him," Joseph says. "It really bothered me that I couldn't get down and play with him anymore."
Janet remembers watching Sawyer set toys on his grandfather's lap. Sometimes, he would just stand beside Joseph and hold his hand.
When he continued to worsen, Joseph's doctor sent him to Boone Hospital Center to see neurologist Justin Malone, MD, with Neurology, Inc.
At their first meeting, Dr. Malone saw that Joseph's movement problems did roughly resemble Parkinson's disease, but it wasn't a perfect match. Joseph didn't have problems with shaking, a hallmark symptom of Parkinson's disease.
"That was another clue," Dr. Malone says.
While he couldn't rule out Parkinson's, Dr. Malone also suspected that Joseph might be suffering from a rare neurological disorder called normal pressure hydrocephalus—a problem Dr. Malone had treated only a handful of times during his career.
To help make the diagnosis, Dr. Malone sent Joseph home with a prescription for medicine that fights the symptoms of Parkinson's disease. If the medicine helped, it would indicate Joseph had Parkinson's.
But two months later, Joseph was back and the medicine had not helped. Now, with Parkinson's disease no longer a possible diagnosis, Dr. Malone needed to confirm whether normal pressure hydrocephalus was the cause of Joseph's problems.
Normal pressure hydrocephalus is not fully understood. Its symptoms are caused by a build-up of extra spinal fluid in the brain. That extra fluid places pressure on the brain, causing problems with walking and incontinence. If the pressure is relieved, these symptoms can improve. But left undiagnosed, patients can experience dementia, a symptom that can become permanent.
Dr. Malone says that both CT and MRI scans of Joseph's brain appeared to show signs of normal pressure hydrocephalus. To confirm the diagnosis, Joseph was admitted to Boone Hospital for further testing.
While Joseph was at the hospital, his wife, children and grandchildren spent many hours with him in his hospital room. Janet says the caregivers helped make the family feel welcome.
"The staff was awesome," Janet says. "They were all present and very tied into what they were doing as a unit. I was very impressed with the quality of the work and the quality of the staff."
Janet says even three-year-old Sawyer was comfortable.
"There was no fear, there was no sense of concern," says Janet.
She says Sawyer even accompanied her to Boone Hospital's newly-renovated chapel to pray.
During this time, Dr. Malone tested how Joseph's body would respond to having excess spinal fluid drained from his body. For three days in a row, caregivers drained fluid, then watched for changes in Joseph's walking and balance. They found that when the spinal fluid pressure was relieved, Joseph showed improvement.
It was finally clear that Joseph was indeed suffering from normal pressure hydrocephalus. With the mystery solved, Joseph was quickly scheduled for brain surgery.
During the procedure, neurosurgeon Charles Bondurant, MD, installed a ventriculoperitoneal shunt inside Joseph's body. It's a device that allows excess spinal fluid to drain from Joseph's brain into his abdomen.
Before his surgery, Joseph expected that he would wake up after the procedure with a terrible headache. But when he awoke, he was shocked that he felt fine. He didn't even need pain medicine.
"I felt great. I could walk. I just couldn't believe it," Joseph says.
The next day he was released from the hospital and returned home to Wardsville. Joseph's homecoming came just before the holidays.
"The first thing he said when we got home is, 'Do you think we can have Christmas here?'" Janet says. "I said, 'We'll make it work.'"
When Christmas came, dozens of family members joined Joseph and Janet for the celebration. While he was still beginning his recovery, his relatives were already amazed to see the old Joseph was coming back.
"There were a lot of hugs and just a sense of, 'we've got you back,'" Janet says.
In his field, Dr. Malone says he often spends his days helping patients cope with symptoms of disorders that can't be fixed. In helping Joseph, he was happy to have helped a patient find a cure.
"It's always refreshing when you are taking care of a patient and there is a disease that you can actually make better," Dr. Malone says. "I'm just really happy we were able to recognize the disease and get Joseph the appropriate help that he needed so he could get back to having a more normal life."
Joseph continues to go to physical therapy, and he says he's always improving.
"Every day it's getting a little better," he says.
He hopes get back to his old routine this summer, which includes working in his garden and push-mowing his two-acre yard. He's also eager to continue his pursuit of visiting all the baseball stadiums. This summer, he and his family plan to check five stadiums off their list during a visit to California.
He credits his caregivers with giving him his life back.
"It was just a great experience for me," Joseph says. "Boone Hospital is just something else.