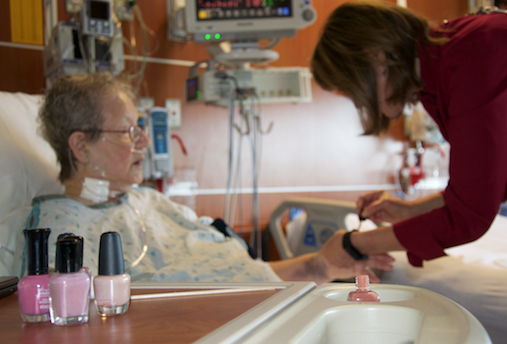 By Madison Loethen
77-year-old Carmen Koebbe sat back in her hospital room recliner. Her nurse and daughter had encouraged her to spend some time sitting up, promising that it would aid with her recovery. Still, just a few days after having heart surgery, it was no easy task.
That's when Carmen heard a knock on the door. Longtime Boone Hospital volunteer Anne Elfrink walked into Carmen's room and introduced herself. She asked Carmen if she would like a manicure.
Carmen lit up. As a former Mary Kay rep, her unpolished nails had been bothering her for days. Of course, Carmen said she would love one, and Anne got to work.
Anne asked Carmen all about her life and her family as she gently cleaned Carmen's hands. She proceeded to massage Carmen's hands for several minutes. Carmen felt instantly relaxed and all of the pressure of having to sit up out of bed seemed to melt away.
Carmen told Anne how she had come several hours from her home town of Salem, Mo. to have surgery at Boone. She said she has loved the doctors and nurses who have treated her here, but it was hard to be so far from home. She also mentioned that her daughter and son-in-law had been staying at a local hotel so that they would be able to see her while she was in the hospital.
When the massage was over, Anne asked Carmen to pick out a color. Carmen chose a light pink and lit up when she saw how nicely it looked on her nails. Anne took her time with the manicure and ended up spending about an hour just talking to Carmen and pampering her. By the time Anne left, Carmen's spirits were greatly lifted. She even said she wanted to do something nice to someone else soon, just as Anne had done something nice for her.
The manicure program was started almost 20 years ago by Boone Hospital's supportive care program coordinator Dorreen Rardin, RN. When Dorreen started the supportive care program in 1998, she asked for volunteers to give manicures to supportive care patients.
"Human touch can be so healing. So can being pampered. Getting a hand massage and nails painted can really encourage patients. We started doing the manicures for supportive care patients, but now will give them to any Boone patient that we think it might help," says Dorreen.
Boone currently has two volunteers who give manicures to patients. If you or someone you know would like to volunteer in the manicure program, contact Mandy Schmidt at 573.815.6064. If you or a loved one are a patient at Boone Hospital and would like a manicure, just ask your nurse.