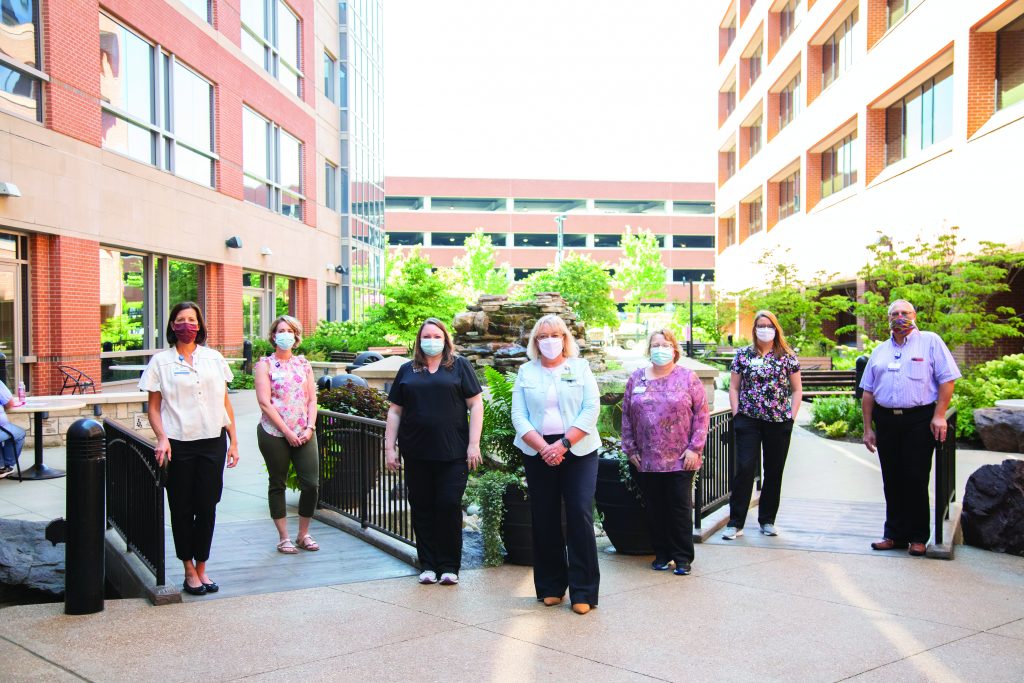 By Erin Wegner
Filling a new prescription can be worrisome. We wonder, what questions should I ask the pharmacist? How do I take the medication properly? How will it make me feel? What if I forget to ask?
For 25 years, Boone Hospital Center's outpatient pharmacy has answered these questions and many others, with priority on making sure the patient is comfortable and understands the medications they've been prescribed before leaving the pharmacy.
Chris Janicek, RPh, Boone Plaza Pharmacy Supervisor says, "Anytime we have a customer with a new prescription, we go over how to take the medication properly. We want the patient to know if their medication needs to be taken with food or on an empty stomach, what the side effects are, and if there are any drug or food interactions. When a patient is discharged after surgery, our pharmacists will counsel the patient on when and how to take the pain medication. Our pharmacists also want the patient to be aware of what is in the pain medication, for example, whether the prescribed pain medication has Tylenol. "
Boone Hospital Center's first outpatient pharmacy broke ground on May 8, 1995. Boone Plaza Pharmacy, so named because it was originally located in Broadway Medical Plaza 1, allowed the pharmacy to fill prescriptions for both employees and patients. Before then, they could only fill employee prescriptions.
This year, the outpatient pharmacy is celebrating its 25th anniversary. Since opening its doors, the pharmacy has moved three times. In 2006, Boone Plaza Pharmacy relocated across the street to the hospital's Nifong wing. In 2008, it moved next door to the inpatient pharmacy. And in 2017, Boone Plaza Pharmacy cut the ribbon on a prominent new location in the hospital's main lobby.
Chris and Pharmacists Amy Welch and Carma Pohl have all been with the pharmacy for every move.
Chris says: "Moving every few years has kept things interesting. It's exhausting and a lot of work. Since we're dealing with prescription medications, we're concerned with security. The Missouri Board of Pharmacy regulations only allows personnel registered through the Board of Pharmacy to handle the medications. So no one from outside the pharmacy department was allowed to help us with the moves."
Carma agrees: "I definitely remember all of the moves as exhausting. The challenge came from having to set up a new workspace that functions for safe and quick workflow, all over a long weekend."
Director of Pharmacy Services Stephanie Lumley-Hemme shares, "The business model at Boone Plaza Pharmacy has changed over the past few years. Our focus is for Boone Hospital Center patients to have their needed medications in hand before leaving the hospital."
A few years ago, the pharmacy began providing bedside delivery of medications to patients waiting to be discharged, saving patients and their families an extra stop after leaving the hospital. Prescriptions are brought to the patient's room by a pharmacy team member, and patients can pay for their medication at the bedside.
Stephanie adds: "When the patient has the medication before they leave the hospital, we know the patient has what they need to begin the road to recovery and healing after. Studies suggest that patients having their medication before leaving the hospital may reduce readmission rates, because the patient is able to ask questions of both the pharmacist and nurse while still at the hospital."
Sometimes, providers may prescribe medication that isn't available in a hometown pharmacy. The medication may be too expensive to stock or be prescribed so rarely that it would expire on the shelf. When the patient fills their prescription at Boone Plaza Pharmacy before leaving, the medication is available. It's also easy to transfer a patient's prescription to their hometown pharmacy if refills are needed.
The pharmacy also helps sell pre-surgery nutritional supplements and individual bandages, so patients don't have to buy an entire box. It's also stocked with a wide variety of over-the-counter items that could be useful for employees, patients and visitors.
Stephanie also credits the Boone Plaza Pharmacy's quarter-century of success to its staff. She says: "Patients are loyal to the pharmacy because they trust the staff and know we have our patients' health in mind. We also look out for our patients' pocketbooks by trying to find additional savings on medications."
Chris says: "We are all a team and share the workload. You can find a pharmacist at the cash register as often as you would see a technician."
Carma agrees, "We have a strong and experienced team, and we are good at evolving!"
Like other patient care areas in the hospital, the pharmacy is not exempt from tension-filled days and busy workloads. To relieve stress and share some laughs as a team, the pharmacy team uses humor to break up those moments, and has learned as a team to keep the work environment light-hearted.
The Boone Plaza Pharmacy team agrees the hospital lobby is the perfect location. When the plan for the pharmacy's move was finalized, Stephanie remembers telling everyone, "It's like having beachfront property! Being in the lobby meant the pharmacy would be busier due to traffic flow."
Chris says: "Before we moved to the lobby, we used to give patients a map in order for them to find us. It was like following a pirate's map — X marked the spot! Now, we are centrally and conveniently located. We are close to the Emergency Department, and visitors and patients come right past us to go home."
Alicia Swartz, a certified pharmacy tech who has been with the team for six years, couldn't agree more: "I feel that this is where we were truly supposed to be this whole time. We are visible to the public and easy to find. Plus, the view of the Healing Garden is wonderful. But we do joke that being so close to the coffee shop is both a blessing and a curse!"
Chris says: "We get to interact more with staff, physicians, volunteers and family members. That is an important part of the services that we provide. We love getting to know other people and hope to provide excellent service for anyone that we can. We get to know people's names, employees, volunteers, doctors — we get to know them and get to know their stories. We feel like we're a small-town pharmacy in a mid-sized town."