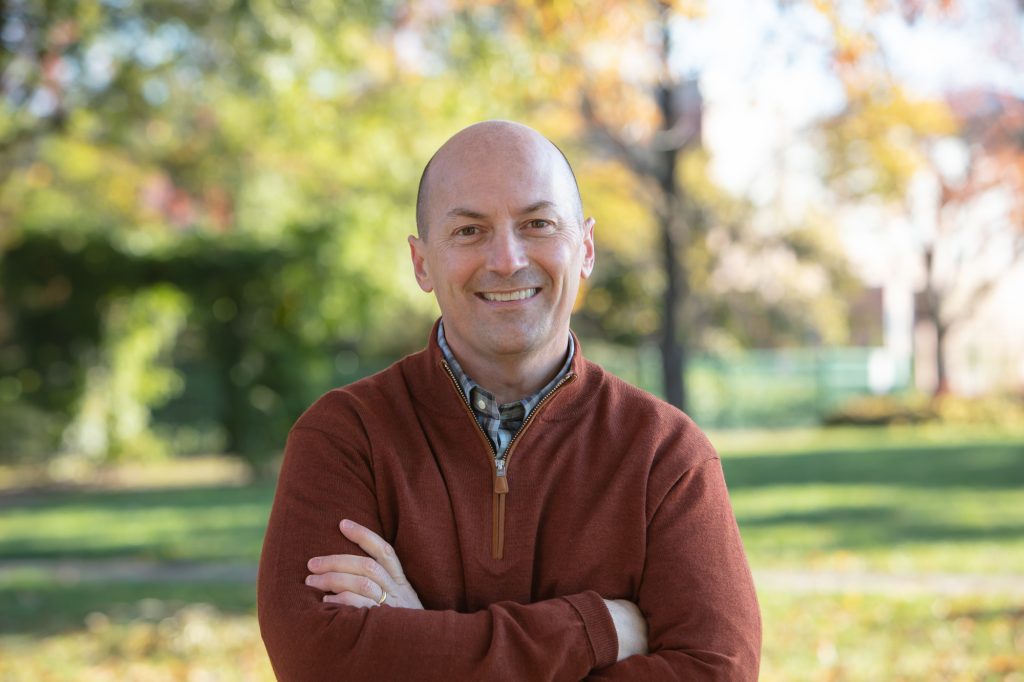 Embracing a New Era at Boone Hospital
2020 was a pivotal year in the healthcare industry; healthcare institutions around the nation have undergone dramatic changes that have forced professionals to recalibrate and assess how their roles function within the industry and how they can best provide for their patients' needs.
For Boone Hospital Center, change came in the form of parting with BJC HealthCare and embracing operations as an independent hospital with Troy Greer helming the organization as CEO.
The beginning of Troy's tenure marks a shift at the hospital — one that focuses on not only serving Columbia's community but also imparting hope to the community as it navigates what has been an incessantly difficult year.
When curiosity morphs into effervescent passion
Troy's journey to the top of Boone Hospital's leadership was somewhat unexpected but also predestined. In graduate school, he was fascinated by the merger between Barnes-Jewish Hospital and Christian Health Services and the complexity that characterized that partnership.
Troy mentions, "It goes back to graduate school. The first thing I studied was the Barnes Jewish-Christian merger and the complexity of bringing those organizations together. So, when I saw the headline in a healthcare publication that Boone Hospital was going to become independent and move away from BJC, it just sparked [in me] a professional curiosity."
Troy's curiosity persisted, and as he dwelled on the topic more, discussing it at length with his wife, he got a message from the lead recruiter asking him to consider applying for Boone's CEO post. Troy accepted the offer and then underwent a series of interviews with Boone's leadership, staff and other important members of Columbia's community. Eventually, he became the final select out of almost 200 applicants, and he and his family relocated to Columbia soon after.
Pre-Boone Hospital, Troy had spent 13 years in the Lovelace Health System in Albuquerque, New Mexico. There, he was the CEO and oversaw two hospitals, including a cardiac center in downtown Albuquerque, which he describes as "one of the market leaders for cardiovascular services in the country."
The health system in Albuquerque was close to Troy and his family's heart, and deciding to move to Columbia was far from easy. However, Boone Hospital's interview process awakened in him an excitement for the new opportunities that awaited him in Columbia.
"Two unique moments defined the uniqueness of the role. The first being that I was given the opportunity to be interviewed by the Daisy and Bee award winners (nurse and support staff members) from the hospital. I thought, culturally, it was a strong indication of how important team members are to [the hospital's] leadership," says Troy.
"The second unique moment was the lunch interview with members of the community. I was pleased to speak with a wide range of people from religious organizations, academic institutions, the business community and elected officials. It was amazing to see them all be there because it meant so much to them to be involved in this process," he further mentions.
Reflecting on his path to Columbia, one can conclude that what began as pure professional curiosity became an endeavor Troy fiercely hoped would come to fruition.
Taking on the work at Boone Hospital
Troy's biggest motivator as he works at Boone Hospital is to make sure that the organization lives by its mission, and he describes his role as being the "defender of culture."
"A place like Boone has such great culture, and I want to make sure we enhance that. As CEO, you want to make sure you have direction laid out to position the organization to carry out the mission well and put in place the kind of infrastructure that'll provide for the community's needs," says Troy.
With this in mind, Troy has steered the organization towards asking the necessary questions that seek to locate patients' needs and assess the community's health trends to best inform how said needs can be met. To do this, the organization conducts a Community Health Needs Assessment.
"We carry out a Community Health Needs Assessment, where we ask what are the resources that are lacking in the community, and we find ways to combine those resources with those needs. Our goal is to try to deliver the services most required by people in the community," says Troy.
Leading in the middle of a national health crisis
Stepping into leadership at Boone Hospital amidst the rapid spread of the coronavirus hasn't presented itself to be the simplest of undertakings for Troy. Not only is he tasked with trekking through a discovery phase where he has to learn intricacies about Columbia's healthcare, but he also has to be prompt with his action plan to combat the pandemic and keep the hospital functioning well.
"It's always challenging coming into a new role," says Troy. "However, one thing you need to do is use your ears more than your mouth. You need to listen and get to know people and to see what those challenges are. I'm very purposeful about not making any big decisions during the early stages because you don't feel like you know enough about the community and its people from afar to feel empowered to make those decisions."
He further mentions, "The toughest challenge is that COVID requires immediate responses. Things change day to day and sometimes hour to hour regarding what we are able to do," says Troy.
However, his burden has been lightened by the support he has received from his environment.
"I have been blessed that the trustees had the wisdom of having some overlap with the outgoing CEO, Jim Sinek. Jim and I were able to have a collaborative partnership regarding the handoff, and having him running the hospital on a day-to-day basis while I've been getting to know the players and the community and the various levels of healthcare in the area has been a blessing to me," says Troy.
What Does the Future Hold?
Looking ahead at his future at Boone and what his plans are for the organization, Troy says, "There's already a wonderful foundation at Boone. We were rated as the number one hospital in mid-Missouri, which is amazing!
"The first strategic thing we need to work on is daily operations. We need to make sure that the hospital continues running well as it goes from a 32-year relationship with BJC to having to do things on its own. I want to make sure we handle independence as effectively and efficiently as we can," says Troy.
Come 2021, the first quarter is going to bring some exciting times for Boone Hospital. Troy will be spearheading a new strategic plan for the independent Boone Hospital that will involve leaders from the community.
"We want to make sure that we have a lot of community voice in what the future of Boone looks like. This is not my institution; it is our institution, and I want to make sure that as we build for our future, it's a collective effort designed in a way that meets the needs of our community," says Troy.