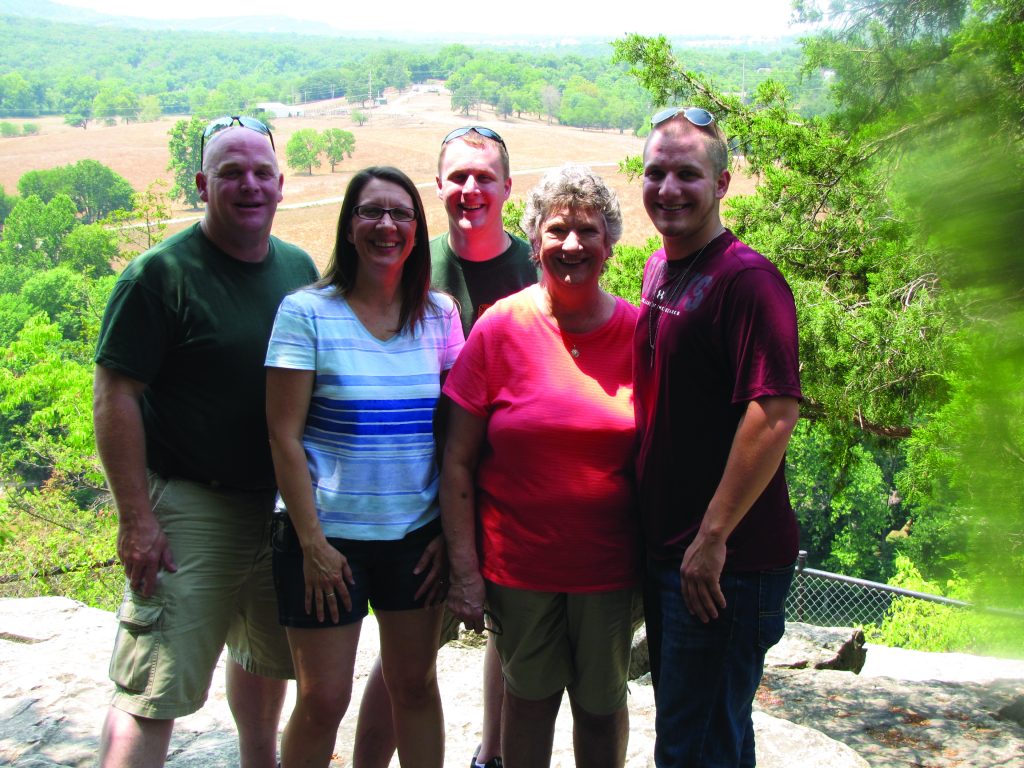 By Erin Wegner
One mom's discovery of a hereditary disease was traced back two generations to her mother and grandfather, which helped her teenage daughter Sheila and her then-unborn grandson Blane prepare for their own future.
It was 1978, and Mary Ann Whitehead was 32 years old. She had been married to Gary for 13 years, had one daughter Sheila, a German Shepherd named Gypsy, and owned a beauty salon in Hallsville, Mo. When she noticed blood in her stools, she contacted her doctor, who suggested she have a colonoscopy. Mary Ann thought she was too young to have a colonoscopy, but her doctor assured her that was the best way for them to screen her colon for cancer.
The colonoscopy revealed that Mary Ann had hundreds of polyps in her colon. Her polyps had been growing for a long time. The blood in her stools was the result of the polyps being in the beginning stages of cancer. Surgery was scheduled to remove all but the last six inches of her large intestine. At that time, Mary Ann's doctors were able to determine that she had familial adenomatous polyposis, or FAP.
The doctors discovered Mary Ann's mother had also had FAP. She had previously had portions of her colon resected, but the hereditary connection had not been known at the time. Looking back further, they realized Mary Ann's grandfather also had FAP, which ultimately took his life because it went undetected.
FAP is a hereditary condition with a genetic mutation in the adenomatous polyposis coli gene. It can be passed down from generation to generation. With this condition, hundreds to thousands of polyps form in the large intestine, colon, rectum and small intestine. In most cases, surgery to remove the large intestine is needed to prevent polyps from growing into cancer.
Lucy Shaffer, a certified gastroenterology registered nurse, worked in Boone Hospital Center's GI Lab for 37 years. She says, "A polyp is a small growth in the colon. Some polyps, if not removed, could grow and change into a cancerous polyp.
"You have no idea if you have a polyp or multiple polyps. You can't feel them growing. It's not like you're walking around one day and say, 'Hmmm, I think I've got a polyp.' That's why it's important to have the colorectal screening, which is the colonoscopy."
Since Mary Ann had a young child, she was instructed to have her daughter Sheila screened when she was older. Because FAP can start after the onset of puberty, teenagers may have screening colonoscopies to look for polyps or measure the amount of polyp growth.
Growing up, Sheila Whitehead – now Bias – always knew that there was a possibility that she carried this gene and could pass this to her children. Sheila was 18 when she had her first colonoscopy. There were 20 polyps present that were removed and found to be benign.
Sheila attended her first year of college and had a repeat colonoscopy at 19. This time, she had over 100 polyps. Even though the polyps weren't cancerous, her family and doctor decided that the best course of action would be to remove all but six inches of her large intestine to remove the area of the colon where most of the polyps were found.
After her surgery, Sheila had colonoscopies every six months for years. Now she has annual screenings. Polyps can also grow in the small intestine, so Sheila also has upper endoscopies every other year to make sure the polyps aren't growing in her small intestine.
Sheila and her husband Bob Bias have been married for 32 years and have two boys, Nathan and Blane. Sheila knew FAP could be passed down to her boys and was prepared when it was time for their colorectal screens. Nathan was 16 years old when he had his first colonoscopy. His results didn't show any polyps, so he took a DNA test to determine if he had the FAP gene. He didn't carry the gene.
Sheila and Bob had planned on waiting for Blane, who was five years younger than Nathan, to get older before having his first colonoscopy, until a surprise symptom emerged.
Bone growths are a symptom of FAP. Sheila had a bone growth on her jaw removed when she was 16, and her mother, Mary Ann, has one on her forehead.
One day, while sitting on the couch with Blane, Sheila felt a knot in his shin. She contacted gastroenterologist Peter Cleavinger, MD to schedule Blane for a colonoscopy. Blane had polyps present, which meant he carried the gene.
Reflecting back, Sheila did not understand the importance of regular screenings and would put them off. She wanted to be a teenager and scheduling colonoscopies did not top her priority list. When she finally made an appointment, her physician, Walter Peters, MD, sat her down, looked her straight in the eyes, and emphasized that if she didn't come in for these screening colonoscopies, that she could develop cancer, it could metastasize and she could die.
Sheila realized then how important it was to maintain her colonoscopy appointments. She says, "God allowed this to help me begin to learn to trust him." She started taking her screenings seriously after that and never missed making another appointment.
Because Blane already had polyps at the age of 12, she felt surgery for him was inevitable. When it came time to make a decision about their son's surgery, Sheila and Bob decided to go ahead with it. Because of her struggles with being inconsistent so young, she wanted him to learn the importance of that while he was still under their roof so that by the time he was 18 or 19, he would already have an established pattern.
Being only 13, Blane was scared at the thought of having surgery. He knew what his mom deals with, and that was a lot for a 13-year-old to take in. Thankfully, they were on a mission trip in St. Louis the week before Blane's surgery, doing Bible School for younger students. Through that trip, and from his studies, he learned some things that helped him trust God and made him feel a lot stronger.
Today, Blane is doing great and still has his colonoscopies every 6 months. Now 27, he is a firefighter and EMT and is currently attending paramedic school.
This disease, as it comes in each generation, presents a little sooner and a little stronger. So, it started with Sheila's great-grandfather dying of it, her grandma had portions of her colon removed, her mom found out she had it at 32, Sheila found out at 18 and her son Blane at 13.
Sheila has had people ask her how she continuously returns for colonoscopies. Her faith has really helped her – to her, it's one day out of the year, and the prep is the worst part, but it's better than the alternative. "So, it comes down to my choice and how I choose to think about it," she says. "It's all about your perspective. Yes, prepping for the colonoscopies is the worst part, but it's better than cancer."
Looking back, one of the highlights of her experience has been the time she has spent with the team and staff at the GI Lab. The "GI Ladies," as she calls them, have all worked at the hospital for a long time. "I've grown up with them," Sheila recalls. The team was also accommodating. Sheila, her son and her mom could all get colonoscopies on the same day.
March is Colorectal Cancer Awareness Month. In the last two years, the recommended age for getting colonoscopies has been lowered from 50 to 45 because many younger people are presenting with polyps.
Lucy says, "You may not realize you have a growth in the colon until it is large enough to either cause an obstruction or cause bleeding. That is why beginning the screening process at the recommended age by your doctor is so important. Most healthy individuals should start screening at 45. It's also important to talk to your doctor about your family history, as this may determine the date to begin screening colonoscopies.
"We want people to know that it's not normal to have rectal bleeding or to have a change in your stools. If that happens at any age, you need to talk to your physician.
"Colorectal cancer is the second leading cancer death among men and women. Symptoms usually do not appear until the disease has spread. That is why it is so important to keep educating the community. 19 million colonoscopies are performed each year. For most people, this is a preventable cancer," says Lucy.
Since her retirement, Lucy has joined the Corporate and Community Wellness department at Boone Hospital. "Our goal is to have 100% of our community screened. And that will be my job once I can get out there and share presentations for our folks on colorectal health, "says Lucy.