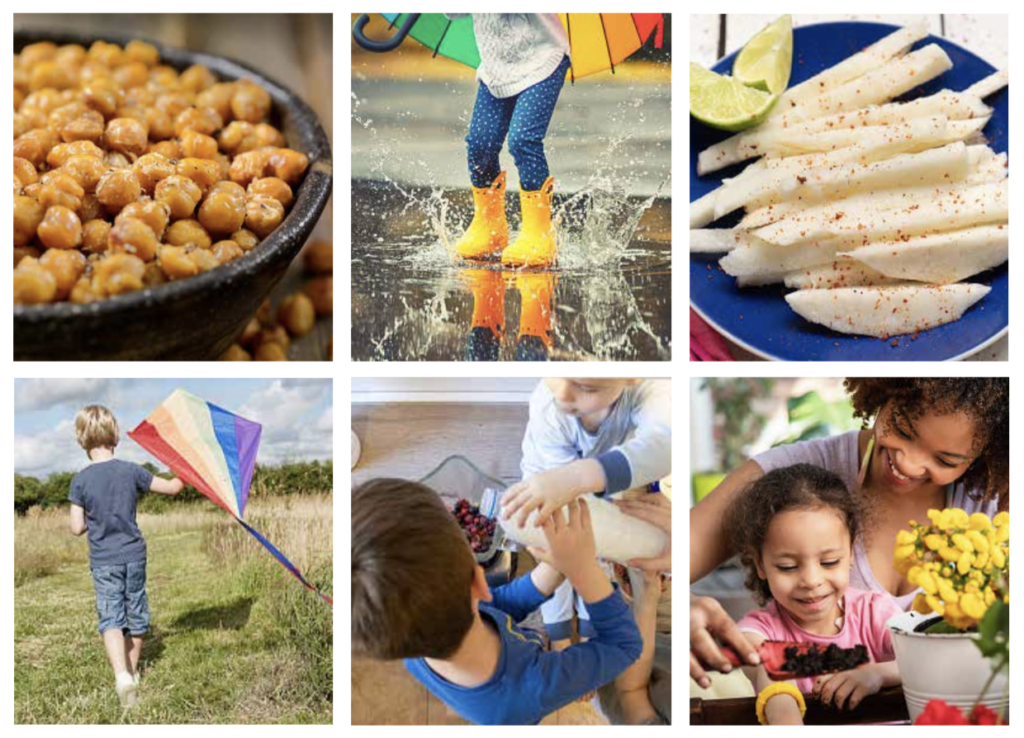 Kid's Corner: Healthy Snacks And Activities
By Jennifer Tveitnes, RD, LDN
Kids' brains are worn out by the end of the school day. Seven hours of switching from subject to subject, solving problems, reading, absorbing new information and navigating social interactions is enough to exhaust anyone's mind. What's the best way to energize your child and help everyone power through the rest of the day? Two basic needs: nutrition and activity.
When it comes to after-school snacks, your kids' brains need glucose or carbohydrates for fuel, and their bellies need fiber and protein to stay full and satisfied. Liven up your daily snack routine by offering snacks with color — brightly colored fruits and vegetables provide an assortment of vitamins and minerals needed by the brain. They're a great addition to your child's diet and can encourage them to continue to eat healthy as adults.
Regular physical activity has been shown to boost brain function. Kids sit during most of the school day. Taking time after school to move their bodies can help kids do better while completing homework, and it improves their memory retention. Physical activity is also a great mood booster and can help make everyone's evening a little more pleasant.
SNACKS
• Crunchy Chickpeas: Drain a 15-ounce can of chickpeas. Cook in an ovenproof skillet with 2 tablespoons olive oil and 1 teaspoon each of cumin and smoked paprika for 2 minutes. Season with salt, then transfer the chickpeas to a baking sheet and bake for 20 minutes at 425°F.
• Crackerwiches: Spread peanut butter on a whole wheat cracker. Top with a few thin strawberry slices, then lightly drizzle with honey and top with another cracker.
• Pretzel Melts: Place small slices of cheddar on a mini pretzel. Top with finely diced bell peppers, then another pretzel. Put on a parchment-lined baking sheet and bake for 7 to 10 minutes at 425°F. Serve with mustard.
• Tuxedo Olives: Cut cheese sticks into thin strips. Stuff the strips inside large pitted olives. Serve plain, or toss with olive oil, red wine vinegar, and parsley.
• Jicama Sticks: Peel a jicama and cut into sticks. Toss with lime juice and sprinkle with chopped cilantro, salt, sugar, and chili powder.
• Flavored Milk: In a blender, puree 2 cups thawed frozen strawberries, peaches, or mixed berries with 3 tablespoons no-sugar- added white grape juice concentrate. Stir about 1/3 cup of the fruit puree into 1 cup low-fat milk. Cover and refrigerate the remaining puree for up to 5 days.
• Apple Moons: Slice an apple into crescents. Spread with peanut or almond butter and press a small amount of granola on top.
• Yogurt Parfaits: Top your favorite flavor of fat- free Greek yogurt with berries and a tablespoon of chopped walnuts
• Pickle Roll-Ups: Spread a thin layer of reduced- fat cream cheese on a slice of deli meat, then wrap the meat around a pickle spear
ACTIVITIES
Themed family walks: Look for different shapes, use all of your senses, find things for every color, or have your kids choose a theme!
Family bike rides
Play a family game of soccer, basketball, or another favorite sport.
Plant flowers together. Let your kids pick which flowers they want to plant.
Play in the rain (as long as there's no lightning).
Fly a kite.
Have a home dance party to your favorite music or follow along with your favorite dance videos on social media.
Exercise at home together. Follow along with instructional videos, like Cosmic Kids, which offers free yoga videos that are fun for all ages. Visit cosmickids. com to learn more.