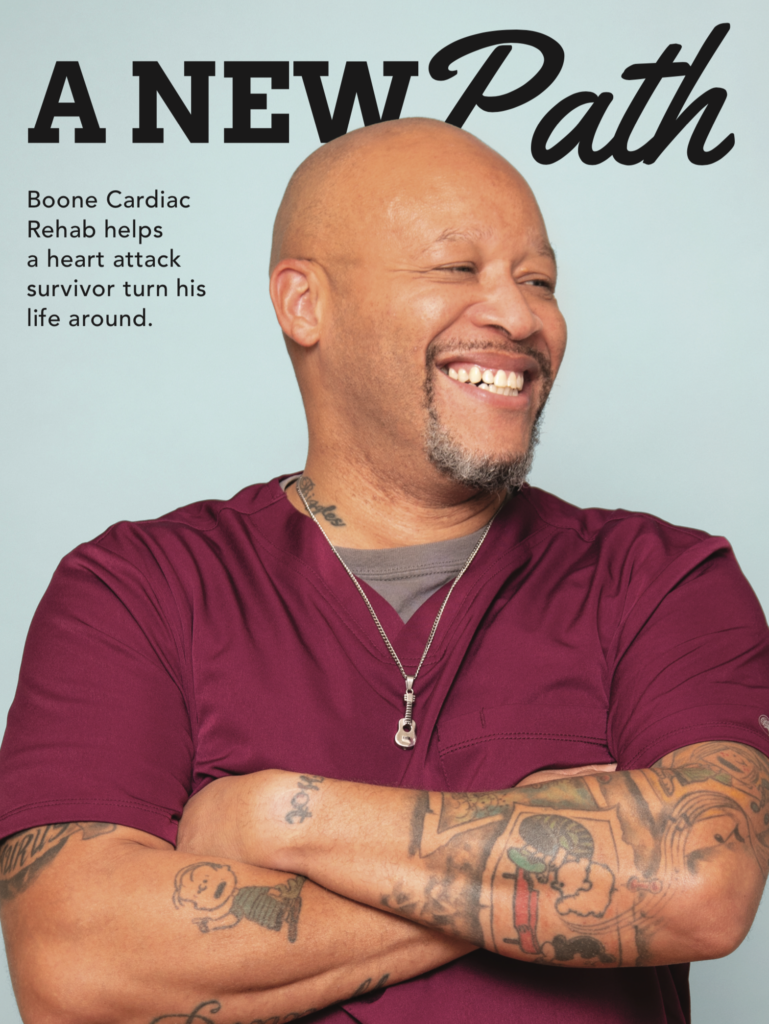 By Hannah Robertson
There are moments in life when two paths stand clearly in front of us and we know, instinctually, that the path we take will change everything. For Dale Donnell, that moment came shortly after his second heart attack.
Anthony J. Spaedy, MD, a cardiologist with Missouri Heart Center, had treated Dale just a few years prior, after his first heart attack. Dr. Spaedy told Dale then that he didn't want to see him again. But at that time, Dale's priority wasn't to get healthy long term; his goal instead was to be healthy enough to return to his old habits of drug and alcohol abuse.
"When you do the drugs I did, you just don't care," Dale reflects.
After he suffered his second heart attack on June 6, 2021, he was back in Dr. Spaedy's care and had to have his second stent put in. This time had been nearly fatal. That's when Dr. Spaedy had the eye-opening conversation with Dale that changed his life.
"He told me I had lived the first 42 years of my life one way. Now I had a choice of how I wanted to live the rest of my life, and if I kept living the way I was I would die."
When Dr. Spaedy mapped out the way those choices would end for Dale, something clicked in his head. He says, "I chose to live."
Making the choice to change was one thing; actively working towards that change was another. Boone Health's Cardiac Rehabilitation program would be instrumental in Dale's journey. While in the hospital, Dale received information about the Cardiac Rehab classes. He also learned that if insurance wouldn't cover the cost of the classes, that he could still participate in an 8-week program, thanks to the generous donations that make up the Boone Health Foundation Scholarships.
Patti Ross, the supervisor at Boone Hospital's Cardiovascular and Pulmonary Rehabilitation and Fitness Center, knew Dale through a mutual connection. He had attended school with her daughter, Angie. She encouraged Dale to give the program a chance, and so he did.
On his first day, an intake assessment was performed to determine Dale's starting point. They created a chart to show where he was starting, how bad it was, and where they wanted him to be by the end of the program. He noticed that he was the youngest person there – another factor motivating him to change.
Dale's concerns about whether he could do it or not disappeared thanks to encouragement he received from Patti and the other staff members. Even that first day, he felt as though he'd been there forever and that they were his family. It was then when he decided to truly turn his life around – starting with quitting drugs cold turkey.
Participating in the 8-week program meant going to classes twice a week for an hour each day. Dale describes the classes as being "like going to the gym, but everyone in the gym has an area of expertise and wants to help you." He took their lessons on food, exercise, and caring for his mental health seriously. Dale never missed a session and has been described by a staff member as "the most successful Foundation Scholarship patient we have had."
Dale remembers the 8 weeks passing by all too quickly and not wanting it to end, but he felt pride looking back at his chart and seeing how much he had accomplished.
Being a recipient of a Boone Health Foundation Scholarship and participating in the 8-week Cardiac Rehab program changed Dale's life drastically and permanently. He has been sober ever since he started and has a new outlook on life. He doesn't take life as seriously as he did because, as he says, "We're never promised the next day."
He's more aware of his feelings and has lower stress levels than before, despite going from working 20 hours a week to over 60 hours a week. "I'm back to my old self, my old work ethic and passion – and it shows. Since starting the program, I've been the Dale I always wanted to be."
When asked about what his future looks like, Dale broke into a wide smile and said "Super bright." After 25 years in the fast-food industry, Dale is now a nursing assistant at The Neighborhood by Tiger Place and a custodian for Columbia Public Schools. He is studying to become a certified nursing assistant with the goal of becoming a traveling nurse.
Dale is incredibly grateful to the Foundation donors who made his participation in the Cardiac Rehab program possible, and the staff who helped him along his journey to recovery. He fully credits these individuals with saving his life.
His message to anyone who has the opportunity to participate in the program is "Take the program. It will change your life. And if you're hesitant, I will go back with you myself every day because it is so, so worth it."
To learn more about Boone Foundation Scholarships, visit boone.health/foundation or call 573.815.2800.