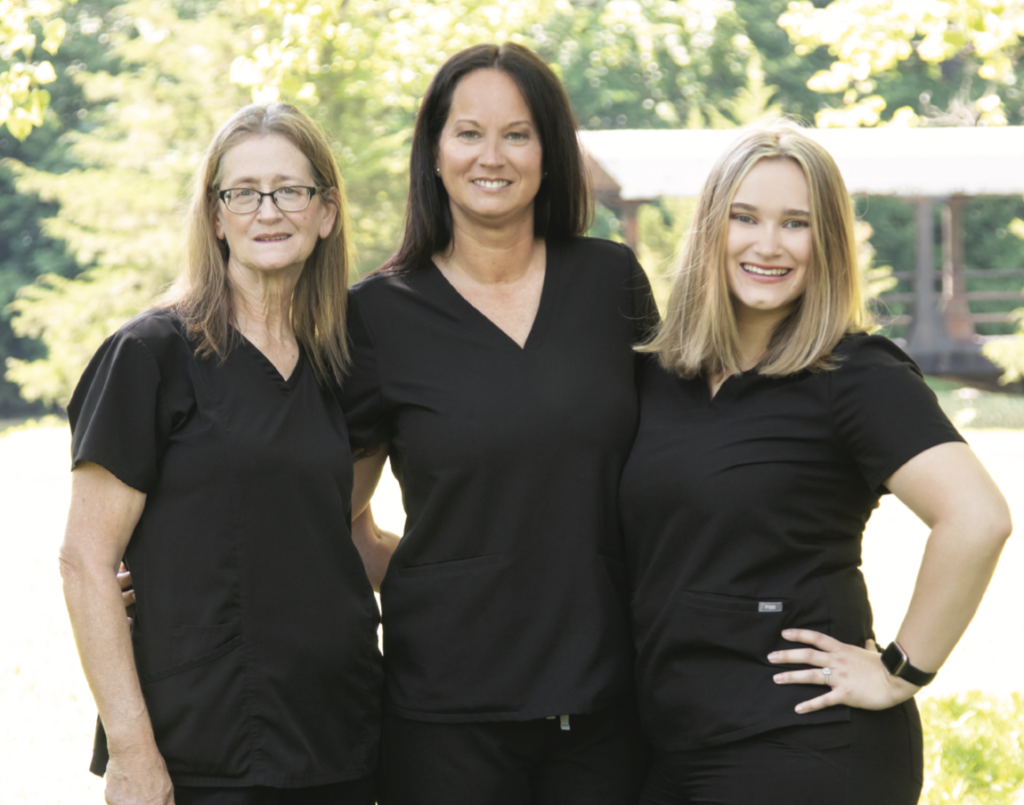 By Erin Wegner
Growing up, Danielle Major would hear her cousin Grace Westfall talk about how much she wanted to become a nurse, just like her Grandma LeAn Smith. From a very young age, this was what Grace wanted to do, and she never wavered on her desire to become a nurse.
Grace's Grandma, LeAn, worked in Boone Hospital Center's Maternal Child Health department for 43 years, delivering several family members' babies during her time at the hospital.
When she was younger, Grace would beg her grandma to take her to the hospital so she could see the babies in the newborn nursery. That was always a special trip for them.
After spending a lot of time at the hospital with her grandma growing up, Grace graduated from high school with plans to go straight to MACC – Moberly Area Community College – to become a nurse. MACC was the same place where her mom, Lisa Smith, earned her RN license, and her grandma received her LPN. It was known as MATC then, Moberly Area Technical Center. After that, LeAn went to Columbia College for her RN license.
When Grace started the nursing program, her cousin Danielle was pregnant with her first daughter. This gave Grace an opportunity to train by asking her cousin questions about her pregnancy.
Before Grace finished school, Danielle got a job at MACC as the Administrative Assistant to Dean of Health Sciences. This allowed Danielle to help get everything finalized for Grace's graduation, including a very special award.
At her graduation ceremony in December 2021, Grace received the Clinical Excellence Award for her graduating class. What made this moment special for Grace and her family is that both her mother and grandmother had also received the Clinical Excellence award for their respective graduating classes.
When Danielle found out she was pregnant with baby number two, she asked Grace where she planned to work, and Grace told her she was trying to get a job at Boone Hospital.
Grace joined Boone Hospital in January 2022. Even though she wouldn't get to work side-by-side her Grandma who retired the previous August, Grace felt her Grandma retired so that she could step in and take her place.
"When I found out she got the job at Boone, I was figuring out where she would be on my due date," says Danielle. "Knowing there was a good chance that I would have Grace as my nurse on either Postpartum or Labor & Delivery, I told her I'd like for her to be on Labor & Delivery if at all possible."
Starting her first 12-week orientation, Grace began her training on the Postpartum floor, while the other half of her group had their orientation in the Labor & Delivery unit.
"Nurses are trained to work in all three areas; Labor & Delivery, Postpartum and the Newborn Nursery. The benefit to nurses being able to work in all areas is the flexibility it gives us for staffing. A nurse can start their shift on Labor & Delivery and then after mom delivers, the nurse can transfer mom and baby to the Postpartum floor and continue to care for her patient and the baby that she helped deliver," says Sherri Barnes, BSN, RN, Maternal Child Health Patient Care Manager.
The day Danielle was scheduled to get induced was Grace's first day on the Labor & Delivery floor.
"I was more excited than nervous," Grace says. "Obviously, I was nervous to a degree, because it was my first day on a different floor, but I was excited because I knew that I was going to be taking care of my cousin Dani."
For several weeks before her cousin was induced, Grace would ask Danielle, "Are you sure you're okay with me seeing everything and being there?"
Without hesitation, Danielle would say, "I wouldn't want anyone else!"
"This was Grace's first vaginal delivery she's ever seen. This was the first baby she's been able to have hands-on experience with and help deliver," Danielle says with a smile. Danielle also knew Grace wouldn't have the extra stress of a new mom going through labor for the first time.
Danielle also got to watch as the nurse who was helping Grace walked her through everything and explained why they did things a certain way.
"It's just been an amazing experience to watch and be a part of Grace's entire process of becoming a nurse," Danielle says. "Having the generations passed down, with her grandmother delivering a lot of babies in my family, then getting to watch and experience Grace deliver her little cousin like her grandmother would have, was just special."