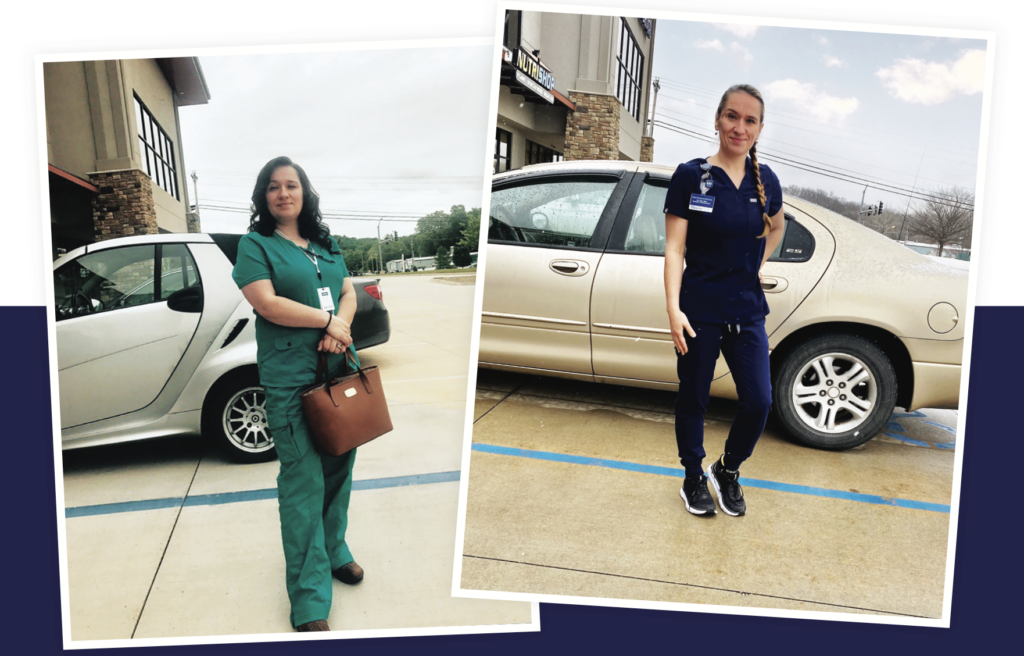 Shedding Pounds Without Surgery
By Hannah Robertson
Galina Rasputina-Simmons, a manager of a recovery room at Boone Hospital Center, found herself
in a position so many of us do. Slowly, over years of balancing work, life with her husband Reginald and their three daughters Alissa, Aleena and Aliyah, along with the stress that comes with it, she had begun to gain weight.
She tried to lose the weight on her own many times, in a variety of ways, but nothing was working. Eventually, she stopped stepping on the scale and gave up trying to lose weight entirely. "Really, I had given up on myself."
As a result, Galina now had high cholesterol which she needed medication to control. This medication came with the side effect of myalgia, leaving her with painful muscle aches and tired the majority of the time.
Being prescribed the medication was like a wake up call. Galina suddenly realized the serious consequences her eating and lifestyle habits could have, as high levels of cholesterol increase a person's risk of heart disease. "I was scared something would happen to me, like a heart attack, and I would leave my kids without their mother," she thought. This fear, as frightening as it was, was just the motivation Galina needed to make a change.
She first heard about the the non-surgical medically supervised weight loss program from a co-worker at Boone, where Galina has worked since 2014. The weight loss program is non-surgical and is medically supervised by a physician and dietician. This team provides each individual with personalized counseling and meal planning to help them reach their specific goals.
Another co-worker had already started the program, so after learning about the option and hearing their experience Galina quickly made an appointment for herself.
Galina started the weight loss program and had her first visit with the physician and dietician on January 25, 2021.
The program's mission is to "help individuals make the best choices to reach their goal weight and give them the tools needed to successfully manage their weight for the rest of their lives."
During the first visit, the medical team performs an initial assessment which allows them to create a diet and exercise program tailored to the individual's specific lifestyle and dietary needs. The program combines nutrition, pharmacology, and physical activity to correct patients' metabolisms which leads to a decrease in appetite, an increase in energy, and typically weight loss. It can be a lot of change at once, but the team works hard to make sure it is doable for the individual, and the regular check-ins help to monitor effectiveness and change course as needed.
Throughout the appointments, she recalls checking her weight, discussing with the dietician about her struggles, cravings and the reason for her weight gain. They also discussed what support she was looking for, how to make healthier choices, what replacements could be made and how to manage stress. The last was very important for Galina, as she found her emotional state related directly to eating. "I would celebrate with food, and I would grieve with food," she said.
One of the most useful tools Galina has found through the program is using an app to support her weight loss journey. There are many options available, but Galina likes to use MyFitnessPal. This allows her to track her goals, the times she eats, what she eats, and the nutritional facts from the food daily. If nothing else, it helps to keep her conscious of what she puts in her body and to eat on schedule (the app will remind her if she skips).
Since the beginning of her journey in January 2021, nearly a year and a half ago, Galina has lost around 60 pounds; dropping from a size 14 to a size 2. She has been able to lower her cholesterol and no longer needs medication for it. Galina says that losing weight through the program "hasn't been that hard at all" thanks to the support of her family, the staff at Boone, and her fellow coworkers who were also in the program and holding each other accountable. The most difficult part, she says, is making the choices to break habits, but that's what leads to true lifestyle change.
According to Galina, one of the best results has been that she's able to motivate others and give them hope. She's seen positive changes in her own family as they follow her diet, and she encourages anyone else interested in a non-surgical weight loss options to give the program a try.
"Find a support group or person, make sure you're emotionally and physically ready to change your habits, set realistic goals, and go ahead and try – make that appointment!" she advises.