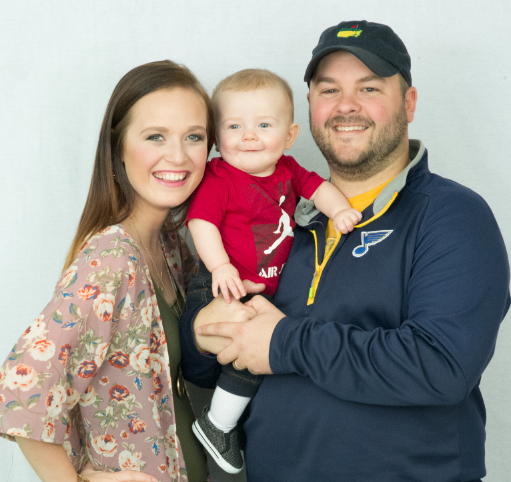 By Madison Burke
Dana first noticed a lump in her neck when she was singing in the car. She was driving alone and casually scratched an itch on her neck. Her first thought was that it must be another infection causing her lymph nodes to swell, just like one that happened earlier that year. But instead of going down over time, the lump got bigger.
Following the advice of her family, the 20-year-old went to urgent care during her lunch break from her job as a preschool teacher. Much to her surprise, the provider advised she get an ultrasound of the lump.
She got the ultrasound and also got the area biopsied. All results came back inconclusive. Dana was advised to get the lump removed and she agreed.
"It had been on my neck so long at this point. I didn't know what it was, but I just wanted it out," says Dana.
Dana had her surgery to remove the lump at Boone Hospital Center one snowy December day. Her then-boyfriend Josh Wilson, along with her parents and sisters, stayed with her at the hospital.
"Our relationship was pretty new when all of this happened. He was so supportive," says Dana.
Dana and her family left the hospital, and she vividly remembers getting the phone call at home that would change her life forever.
"I got a call and was told I have cancer – Hodgkin's lymphoma. I immediately worried about going bald. I know it's crazy, but my 21st birthday was coming up. I also started worrying about dying. Josh and I were doing so great, and I wanted to have a future with him," says Dana.
Dana made an appointment at Missouri Cancer Associates and met Joe Muscato, MD and his nurse Robin. There was an instant connection.
"When I met Dana, she was so scared, and I just wanted to help her," says Dr. Muscato.
"I just felt for Dana. I was there for emotional support just as much as I was for medical support," says Robin.
Dana's cancer was in her two shoulders, her neck and her spleen. Dr. Muscato's treatment plan involved chemotherapy with hope for a cure. Dana started chemo right away.
Dana cut her hair short before she started chemo, something that was difficult to do.
"I had really long hair, so it was hard to see it go. I was so fortunate to have such a supportive family and boyfriend around me," says Dana.
Dana remembers being sad about her hair during one of her chemo sessions and MCA nurse Denise saying to her, "it's your hair or your life."
"That really put things in perspective for me," says Dana.
At one point, Dana had to be hospitalized during treatment. She came to Boone Hospital where she says her doctors and the Boone nurses took great care of her.
"Boone is such a good hospital. People really care about you there," says Dana.
While Dana was in the hospital, Josh spent every moment by her side.
"I just cared for her so much and be there for her in any way I could," says Josh.
While Dana was undergoing treatment, she completed her bachelor's degree in elementary education. She hoped to become a third grade teacher.
After finishing chemo, Dana went into MCA to find out if she was cancer free.
"I was so nervous I thought I was going to throw up," says Dana.
Dr. Muscato told her cancer was gone.
"I didn't cry in the office, but in the car with my mom on the way home I just started bawling. I was so happy and just kept thinking about how my hair's going to grow back," says Dana.
Dr. Muscato says he was overjoyed with Dana's success as well.
"As a provider, these kind of stories just warm your heart. I truly care for Dana and am so happy to see her doing well," says Dr. Muscato.
Dana went on to become a third grade teacher, just like she dreamed. Her and Josh's relationship continued to grow.
Josh decided he would propose during one of Dana's follow-up appointments at MCA. He chose the appointment scheduled on the two-year anniversary of Dana finding out she had cancer.
"Dana's cancer and recovery was such a big part of our relationship, I thought this would be a special way to propose," says Josh.
Dana and her mother arrived at the appointment. At first, Dana was disappointed that her nurse Robin was supposed to be out of the office that week. But she was overjoyed when Robin, Dr. Muscato, Josh ,and their dog, Gracie, walked into the room.
The ring was tied around Gracie's neck and Josh asked Dana to marry him. Of course, she said yes!
"We were all so excited for them. We love Dana and Josh very much," says Robin.
Dr. Muscato was as a guest of honor at Dana and Josh's wedding. He was given his own boutonniere and was even listed in the program.
"Dr. Muscato and the MCA staff are like our family now. We wouldn't have it any other way," says Dana.
After a couple years of marriage, Dana and Josh began talking about having kids. The couple was aware Hodgkin's lymphoma can make it difficult to conceive.
"I really wanted to be a dad. I was nervous that we could have trouble conceiving," says Josh.
"I wanted kids too, but in the back of my mind I was nervous my cancer would come back and Josh would have to raise them alone," says Dana.
Much to Dana and Josh's joy, Dana was able to conceive right away. She gave birth to a healthy baby boy at Boone Hospital.
"I'll never forget the tech, Tami, who helped me during delivery. She was shouting 'You can do this, you can do it!' It motivated me to keep pushing even though I was so tired," says Dana.
Little Graeme received visits from Dr. Muscato and Robin after he was born.
"They really are family to us," says Dana.
The family is thriving and Dana is still cancer-free. She says she wants her story to be an encouragement to others going through similar situations.
"There really can be a happy ending," she says.