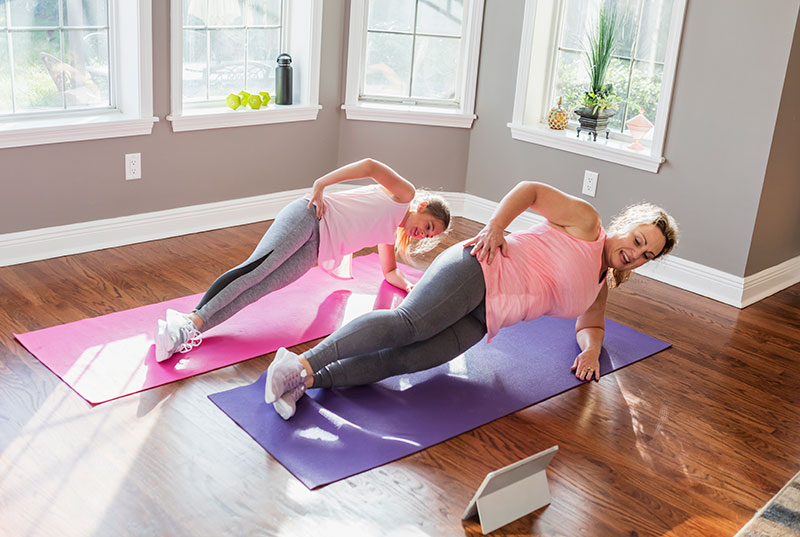 As many of us discover during the first weeks of any new year, establishing an exercise routine can be challenging. Starting and maintaining any new habit, including exercise, is difficult.
During the winter especially, the weather is often a barrier to achieving exercise goals. Joined a gym? Slick roads may prevent you from getting there. Exercising outdoors? Winter precipitation, or just plain cold temperatures, may keep you inside. But these barriers don't have to keep you from achieving your exercise goals. There are plenty of ways to maintain an effective exercise routine from home.
Resistance Bands: resistance bands are lightweight, easy to store, don't take up floor space, and inexpensive. There are a variety of exercises and muscle groups that can be worked using resistance bands. They are even portable enough to take with you when you travel.
Free Weights: these will take up more space than resistance bands, but less space than larger fitness equipment. You do not have to buy an entire set at once: buy lighter ones to get started, and as strength increases, heavier weights can be purchased one pair at a time. You can establish your own workout routine with them or use workout videos for guidance.
Streaming Services: many streaming services have exercise videos available on their platforms. There are other subscription sites that offer exercise content exclusively (Les Mills, Beachbody on Demand, etc.). The advantage of these options is that they provide you with a choreographed workout, designed by fitness experts, that you can do right from home. Some of them require tools such as free weights or exercise bands, but others require none.
Yoga: whether you follow along to a video, or do poses on your own, yoga is a great way to strengthen muscle, improve flexibility, and reduce stress. The only equipment needed is a yoga mat, which is easy to store and takes up minimal space. There are yoga blocks and other yoga equipment available but are not always necessary.
Cardio Equipment: treadmills, ellipticals, stationary bikes, and other large exercise equipment is another option. Prices and features vary widely, so make sure to shop around and only get the features you need. These items will take up the most space in home. Wherever in your home you put them, make sure there is a screen within view! If all that you are looking at is a wall, motivation to get on a treadmill will be scarce.
Jennifer Tveitnes, RD, LD
Boone Health Bariatrics