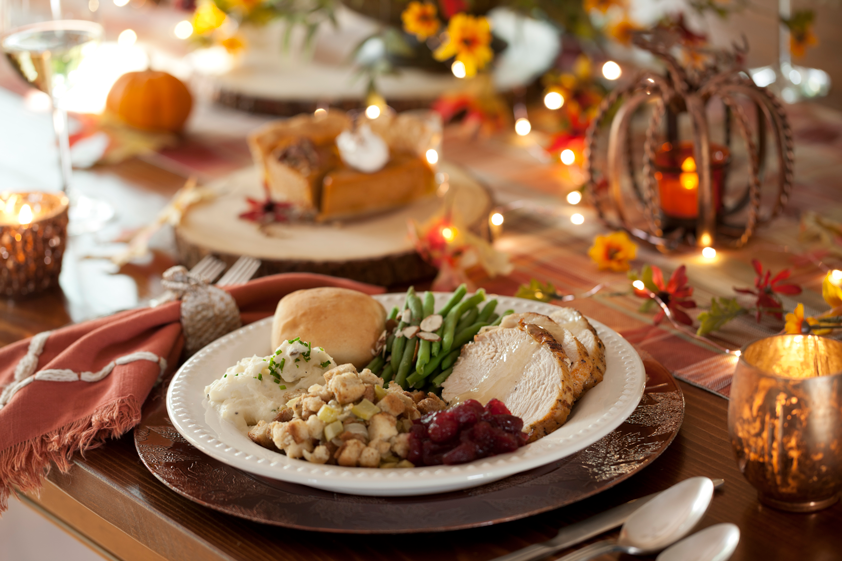 Navigating Thanksgiving As A Bariatric Surgery Patient
Navigating Thanksgiving as a bariatric surgery patient can be a challenge. The main purpose of surgery is to limit room available for food intake, and the focus of meals should be providing good nutrition to fuel the body. On the other hand, food is meant to be enjoyed, and eating a holiday meal is a social situation that doesn't have to be avoided.
The biggest key when navigating any holiday meal is to not overeat. Overeating feels miserable and happens much more quickly after bariatric surgery. Knowing and respecting your portion size limits is crucial.
Using the bariatric plate method as a guide, all foods can fit. Following are a few examples of plates and portions that can work after surgery. Keep in mind that everyone will be able to tolerate different amounts, and the portions listed are meant to be a starting point. Always adjust up or down based on personal tolerance.
3 oz turkey (white meat)
1/4 C green bean casserole
1/4 C mashed potatoes
3 oz turkey (white meat)
1/2 C salad
1/4 C sweet potato casserole
3 oz turkey (white meat)
1/4 C cooked asparagus
1/4 C mac and cheese
3 oz turkey (white meat)
1/4 C cooked carrots
1/2 slice pumpkin pie
3 oz turkey (white meat)
1/4 C brussels sprouts
1/4 C mashed potatoes
3 oz turkey (white meat)
1/4 C greens
1/2 slice sweet potato pie
Jennifer Tveitnes, RD, LD
Registered Dietitian, Bariatrics and Weight Management