Transcatheter Aortic Valve Replacement
Transcatheter Aortic Valve Replacement (TAVR), also known as Transcatheter Aortic Valve Implantation (TAVI), is an innovative approach to replacing the aortic valve without open-heart surgery. The TAVR procedure involves replacing the heart valve with a new one by using a catheter to thread it through vessels in the leg into the aorta and then the heart. The replacement valve is placed inside the patient's natural aortic valve where it expands and pushes the faulty valve aside.
Boone Health Recognized for Excellence with ACC Transcatheter Valve Certification

The American College of Cardiology has recognized Boone Health for its demonstrated expertise and commitment in treating patients receiving transcatheter valve repair and replacement procedures. Boone Health was awarded Transcatheter Valve Certification in January based on evaluation of the staff's ability to meet standards for multidisciplinary teams, formalized training, shared decision-making and registry performance. It is the only hospital in Missouri to achieve this recognition. 
For people who have been diagnosed with severe aortic stenosis and who are high-risk or too sick for open heart surgery, TAVR may be an option. TAVR can result in lengthening patients' lives. This less invasive procedure allows a new valve to be inserted within your diseased aortic valve.  For TAVR procedures, Boone Health surgeons utilize the Edwards SAPIEN 3 transcatheter heart valve.
The TAVR Procedure
TAVR allows a new valve to be inserted through a catheter. The total procedure time varies from about 1 to 2 hours.
In preparation for your procedure, you will be placed under anesthesia (you will be in a deep sleep).
Your doctor will make an incision in your leg. A short, hollow tube called a sheath will be placed into the incision. This will allow your doctor to put various devices through the sheath to access your heart.
Your new valve will be placed on a delivery system—a tube with a balloon on the end. The valve will be compressed on the balloon to make it small enough to fit through the sheath. The delivery system and compressed valve will be inserted into the sheath.
Once the delivery system reaches your diseased valve, the balloon will be inflated with fluid, expanding the new valve into place. The valve will push the leaflets of your diseased valve aside. The frame of the new valve will use the diseased valve leaflets to secure itself in place.
The balloon will then be deflated and removed. Your doctor will ensure the new valve is working properly before closing up the incision site.
What Happens After the Procedure?
Your heart team will determine your immediate after-care plan. Your heart team will give you specific instructions to help you with your recovery. This may include a special diet, exercise, and medicine. It is important to carefully follow your doctor's directions, especially if blood-thinning drugs are prescribed. You will be expected to attend regular check-ups. Regular check-ups with your doctor are very important. Call or see your doctor whenever you have questions or concerns about your health. If you experience any unusual problems such as bleeding, pain, other discomfort, or changes in your overall health, be sure to contact your doctor.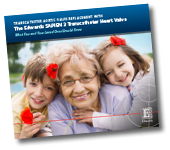 Learn More
Learn more information about the Edwards SAPIEN 3 Transcatheter Heart Valve in this downloadable brochure.
Download Brochure