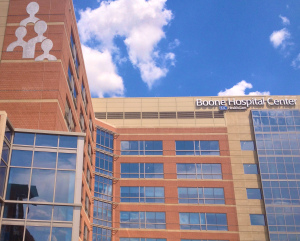 "Thank you so very much for your caring, dedication, professionalism and expertise"
By Karen R. Davis, MSN, RN
Karen, of Hallsville, shared this story via myBoone Health submission form. Click here to share your story.
I was scheduled to have my right knee replaced on Thursday, May 30, by Dr. Hockman. All the pre-op testing and teaching was done, Dr. Hockman and Robin his nurse were professional, personable and thorough in all my appointments in the clinic. I felt confident in their skills to do their best in replacing my knee.
This was going to be a life altering experience for me, to be able to walk and maneuver steps without pain was going to change my life. I was reassured by several nurses and Dr. Hockman that for this surgery "no pain, no gain" was the chant I would learn to love.
I had worked at Boone Hospital for ten years before I continued my education and began teaching nursing at Central Methodist University two years ago. I have many friends at Boone whom I have kept in contact with and knew that Boone Hospital was the place for me to have my surgery.
Arriving at the agreed upon time of 7:45 a.m. in the morning, we were treated with friendly professionalism. Even though I have been a nurse many years, taking on the role of patient was a new experience for me. I too needed the friendly reassurance that everyone knew what they were doing and explaining everything as they did their job. I was called back by Sarah, my preoperative nurse, who was wonderful and explained everything that was going to happen to me and when. My IV was started and all the questions asked and answered by the nurses and the anesthesiologist, Dr. Hockman stopped by and initialed my right knee so everyone would know which knee was the correct one. Then by 9:30 a.m. it was time to go, my husband Tom was to go to the waiting room to wait for Dr. Hockman after the surgery for the update.
To be honest, I do not remember much of the surgery, I did get some very good medication the made me feel warm and happy, I think I was a bit chatty during the surgery. I was assured that I did not give away secret codes or incriminating evidence that could get me into trouble. Nor did I talk about any money I have hidden away and just forgot about. My nurses Bonnie and Melissa were very reassuring and talked me through the whole process. Dr. Meyer, who was my anesthesiologist, made sure I was comfortable and did not feel a thing during the surgery, nor did I have a "spinal headache" afterwards as I did have when I had to have caesarian sections when I had my boys, 31 and 27 years ago. Of course Dr. Hockman and Robin were there too and worked exceptionally well to complete the surgical procedure.
Next thing I know, I'm in post anesthesia care unit where Robin checked in on me when Carissa had some concerns about the drainage from my hemovac drain. We were all reassured, the dressing was reinforced and was soon taken back to my room on the 7th floor by 1 p.m.
My husband was waiting with a beautiful bouquet of flowers. I am listing the nurses and techs that took care of me and I apologize if I forgot anyone. Cimarron and Stephanie took care of me Thursday and Saturday, Becky and Crystal took care of me days on Friday and Sheri, whom I have worked with, and another nurse but I cannot remember her name took care of me Thursday night. Jason and Gloria took care of me Friday night.
Saturday I was to be discharged after meeting the necessary goals to go home, the physical therapists, Kate and another which I did not write her name down, and I apologize, were friendly and knowledgeable to help me meet those goals.
Boone Hospital Home Care provided the nurses and physical therapists that continued to provide the necessary monitoring, encouragement, and goals to continue my recovery. Tom my nurse and Karen my physical therapist were wonderful.
Boone Therapy continued after 3 weeks of home care. Melinda, my physical therapist at Boone outpatient therapy was exceptional, her understanding, compassion and skills to "…is that as far as you can go?" managed to help me meet and exceed goals that surprised even me! Melinda made sure my exercises would be manageable after I return to work.
I had my first return appointment with Dr. Hockman and Robin last week and they were very pleased with my progress.
To say thank you just doesn't seem enough to express the gratitude I feel for all the wonderful people who were involved in this life changing event.
For anyone I missed, I apologize I hope you understand how much of a difference you have made in my life, for the better! So, thank you so very much for your caring, dedication, professionalism and expertise. Please remember, all the things you do every day have a huge impact on the lives you touch.