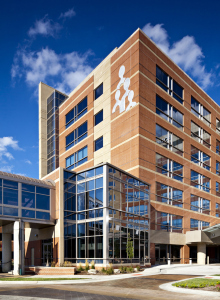 Boone Hospital Center along with other BJC HealthCare Hospitals Lead State Hospital Rankings
Boone Hospital Center and two other BJC hospitals have earned top rankings for the State of Missouri by U.S. News & World Report. Boone Hospital Center ranked #4 overall. In addition to Boone Hospital Center, BJC's Barnes-Jewish Hospital, ranked #1, and Missouri Baptist Medical Center, ranked #3, were also among the top hospitals in the state. BJC Collaborative member, Saint Luke's Hospital in Kansas City, Missouri, was ranked #2. Boone Hospital Center is a part of the 36-hospital BJC Collaborative, formed in 2012.
Boone Hospital Center was recognized by U.S. News for eight high-performing specialties, including cardiology and heart surgery, gastroenterology and gastrointestinal surgery, geriatrics, gynecology, nephrology, orthopedics, pulmonology and urology.
Boone Hospital Center was rated as the area's highest in the category of recommending a hospital to family and friends. In addition, Boone Hospital Center was the only hospital in central Missouri to be recognized as high performing for the following:
Cardiology and heart surgery
Gynecology
Geriatrics
"Our ranking is a testament to the incredible team of physicians, nurses, clinical and support staff who work each day to provide world-class patient care to the communities we serve," says Jim Sinek, Boone Hospital Center President. "To see Boone Hospital Center, along with two other BJC hospitals among the top four ranked hospitals in the state is special. It's an indication that our incredible team extends well beyond the walls of Boone and that patients can count on us for their care."
The U.S. News & World Report Best Hospitals Report has been released annually for 25 years. In the past three years, U.S. News has released state and metropolitan rankings to assist consumers in identifying the best hospitals in their communities. Reports include key information on nearly 5,000 medical centers across the Unites States.
About Boone Hospital Center
Boone Hospital Center is a 397-bed full service hospital located in Columbia, Mo. It is a regional referral center located in the center of the state. The hospital provides progressive health care programs, services, and technology to residents in 25 mid-Missouri counties. Boone Hospital Center has been named a Top 100 Hospital by Becker's Hospital Review and Thompson Reuters and is designated as a Magnet® Hospital for Nursing Excellence by the American College of Nursing.
About BJC HealthCare
BJC HealthCare is one of the largest nonprofit health care organizations in the United States, and is focused on delivering services to residents primarily in the greater St. Louis, southern Illinois and mid-Missouri regions. BJC serves the health care needs of urban, suburban and rural communities and includes 12 hospitals and multiple community health locations. Services include inpatient and outpatient care, primary care, community health and wellness, workplace health, home health, community mental health, rehabilitation, long-term care and hospice.
About The BJC Collaborative, LLC
The BJC Collaborative was created in October 2012 when BJC HealthCare in St. Louis, CoxHealth in Springfield, Mo., Memorial Health System in Springfield, Ill., and Saint Luke's Health System in Kansas City, Mo., partnered together with a goal of achieving even higher quality care for patients served by the independent nonprofit health care organizations. Blessing Health System and Southern Illinois Healthcare joined in 2013. The Collaborative is focused on delivering clinical programs and services to improve health care quality, lowering health care costs and creating additional operational efficiencies for the benefit of patients and communities served by the member organizations. Together, these 36 hospitals account for:
6,265 beds
284,807 admissions
58,653 employees
6,043 affiliated physicians