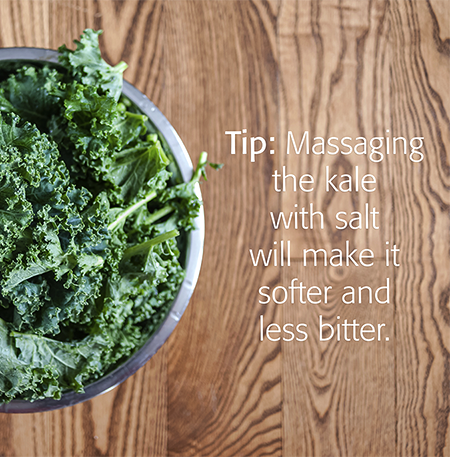 Enjoy this Easy Asian Kale Salad Recipe!
Last Saturday, I demonstrated how to make this Asian Kale Salad at Boone Hospital's Cancer Prevention Fair. I even broke out my chef's coat from college for the cooking demo!
I chose this recipe because it's a delicious way to get in more colorful veggies. Maintaining a healthy weight is the main nutrition-related lifestyle factor in reducing cancer risk. As a dietitian, I'm always encouraging people to make half their plate veggies for overall health and weight control.
A serving of this salad provides more 300% of your daily value of vitamins A and C, as well as 11 grams of fiber. It provides healthy fats through the cashews, olive oil and avocado. If you want a little more protein (one serving provides 14 g), you could always add some sliced chicken breast (7 g protein per ounce).
Kale is the base for this salad, and it helps to "massage" the kale with a little bit of salt, for about 1 minute, to break down the cellulose and make the kale softer and less bitter.
This recipe uses edamame (soy beans), which is one of my most favorite salad toppings due to its soft but not mushy texture. I bought some without shells from the frozen food section, boiled them for 3 minutes, then let cool before adding them to the salad. I love red cabbage for extra color and crunch, and I use my peeler to thinly slice the carrots.
The dressing is quick to whisk together and if you want a little spice, I recommend adding half a teaspoon of sriracha.
I hope you give this new recipe a shot – sometimes recipes can be intimidating because they involve a few ingredients you may not have on hand. I like trying recipes that get me to buy something new, like a head of red cabbage, because then I get to find other ways to prepare those foods like roasted cabbage… Yum!
Stay well,
Kelsie Knerr, RD, LD
Asian Kale Salad
1 bunch kale, chopped and stems removed
1/4 teaspoon salt (for massaging kale)
1 cup shredded red cabbage
1 cup snow peas, chopped and ends removed
1 cup edamame
1 cup carrots, thinly sliced or pre-cut matchsticks
1 red bell pepper, thinly sliced
1 avocado, diced
Handful of cilantro, roughly chopped
1/2 cup cashews, roughly chopped
Dressing Ingredients:
3 tablespoons rice vinegar
3 tablespoons oil
1 lime, juiced
1 tablespoon low-sodium soy sauce
2 garlic cloves, minced
1 tablespoon ginger, minced
For an easier option, try Newman's Own Sesame Ginger Dressing
Optional Salad Add-Ins:
sesame seeds
shallots
almond slivers (or use chopped Blue Diamond Wasabi and Soy Sauce flavored almonds!)
Thai basil
Beans (I've substituted kidney beans for edamame!)
Optional Dressing Add-Ins:
sriracha
sesame oil
tamari (this is gluten-free; soy sauce isn't)
peanut butter
Nutrition Facts (serving: 1/3 of entire recipe): Cal: 400 cal Fat: 28 g (4g Sat, 13g Mono, 4g Poly) Sodium: 622 mg, Potassium: 1169 mg Carbs: 36g Fiber: 11g Protein: 14g (% DV) Vitamin A: 354% Vitamin C: 317% Calcium: 25% Iron: 18%