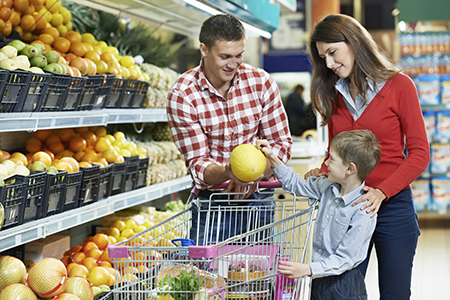 Eating Organic on a Budget
by Jennifer Tveitnes, Registered Dietitian
[EasyDNNGallery|307|Width|450|Height|300|position||resizecrop|False|lightbox|False|title|False|description|False|redirection|False|LinkText||]
Buying organic can be a difficult decision. On one hand, we want to do what is best for us and our families. On the other hand, we have the bank account to consider. Is it worth the extra cost to purchase organic foods? Unfortunately, the answer is not clear-cut.
Organic produce is different from conventionally grown produce. Both have been found to have the same amounts of vitamins and minerals, but organic produce has significantly fewer pesticides. With conventional produce, even after being washed, pesticides can linger.
Research showing that pesticides are harmful is considered controversial. Some research does point towards pesticides causing health problems. Other research finds no evidence that pesticides can cause harm.
So what's a consumer to do? If organics are more expensive, and the evidence for harm is inconclusive, why would you spend more money for them?
Purchasing organics is like an insurance policy. You pay for insurance every month, though you may never need it, you know it's keeping you safe just in case. With organics, we may pay extra, not knowing if avoiding pesticides is necessary, but we are doing the right thing just in case they are not safe. Also of note, there are some organizations, such as the American Academy of Pediatrics, that encourage organic produce for specific populations, such as young children.
With that said, we cannot simply discount budgetary concerns. The Environmental Working Group puts out a list every year of the top produce items found to contain the most pesticides. The most recent list:
• Strawberries
• Apples
• Nectarines
• Peaches
• Celery
• Grapes
• Cherries
• Spinach
• Tomatoes
• Bell Peppers
• Cherry Tomatoes
• Cucumbers
If you have to be select in how much organic you purchase, the above items should be at the top of your list. The following items, known as the "Clean Fifteen," are found to contain the least amount of pesticides, and would be relatively safe for purchase at the conventional price.
• Avocados
• Corn
• Pineapples
• Cabbage
• Sweet Peas
• Onions
• Asparagus
• Mangoes
• Papayas
• Kiwi
• Eggplant
• Honeydew
• Grapefruit
• Cantaloupe
• Cauliflower
If money is no object, then purchasing all organic produce would be the best insurance policy. If you only have a little wiggle room, focus on purchasing the above listed foods that are known to carry the most pesticides, and go conventional with everything else. If money is extremely tight, however, you are better off buying only conventional produce than none at all.