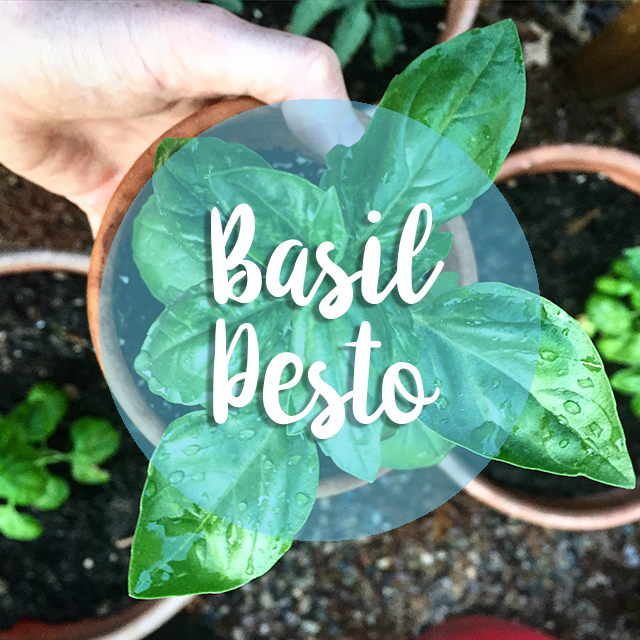 Small Things Make a Big Difference
Have you ever done something you knew wasn't that big of a deal in the grand scheme of things, but made a huge impact on you? This past week I started biking to work. It only takes me 10 minutes and it isn't like I'm burning a million extra calories or suddenly becoming way more active, but I AM BIKING TO WORK! Every time I park my bike I am proud of myself, and when I take my helmet into my office, I feel pretty darn awesome. I'm basically saving the world, right?
I wanted to share another small thing that has been a big deal to me – basil. Basil was what first started my passion for gardening, because it's so easy to grow. It helped me gain confidence as I was first starting out.
[EasyDNNGallery|317|Width|620|Height|620|position||resizecrop|False|lightbox|False|title|False|description|False|redirection|False|LinkText||]
Earlier this year, I started basil from seed next to the window in my apartment and now, a few months later, we have moved into our first house and the basil is huge! Those tiny seeds grew into enough basil for me to make a batch of pesto and still have a ton left on the plant. Who knew basil could be so empowering?
I even gave away small pots of basil at my wedding reception, hoping other people could have the same positive experience I had with it.
As a dietitian I meet people who want to make big changes with their health. As you can imagine, those changes don't happen overnight and often involve taking two steps forward and one step back. If you find yourself struggling to make a change, try to hold onto the "wins" that remind you that you are capable, worthy and can surprise yourself sometimes. I try to help my patients see not all progress has to be physical progress, sometimes it can just be a shift in perspective in how you view yourself.
[EasyDNNGallery|318|Width|300|Height|300|position||resizecrop|False|lightbox|False|title|False|description|False|redirection|False|LinkText||]
Pesto
Ingredients:
2 cups basil
2 cloves garlic, minced
1/4 cup walnuts or pine nuts
1/2 to 2/3 cup olive oil
Salt and pepper to taste
Directions:
Pulse together basil, garlic, and nuts then slowly add oil until desired thickness and season with salt and pepper.
Optional: Add 1/2 cup Parmesan cheese. (Leave this out if you plan to freeze your pesto.)
Here are some recipe ideas for your homemade pesto!
Pizza Use in place of marinara sauce on a pizza. My favorite crust recipe is below!
Shrimp Marinate 1 pound shrimp in 2 tablespoons each pesto and olive oil; add 1 lemon, cut into wedges, and 1/2 teaspoon red pepper flakes. Grill about 3 minutes per side. Season with salt.
Lamb Kebabs Skewer 1 pound cubed lamb and some red onion. Brush with a mix of 1/4 cup pesto and 1 tablespoon white wine vinegar. Marinate 1 hour, then grill.
Steak Mix 1/4 cup pesto, 2 tablespoons white wine vinegar and 1 tablespoon hot water. Grill or broil 1-1/4 pounds skirt steak; brush with the pesto.
Tuna Salad Toss 2 cans drained tuna; 1 can drained chickpeas; 1/4 cup each of chopped parsley, red onion and roasted red peppers; 3 tablespoons pesto and 2 tablespoons red wine vinegar.
Frittata Cook 1 grated zucchini with butter in an ovenproof skillet. Stir in 1/4 cup chopped parsley and 2 tablespoons each of pesto and grated Parmesan. Add 6 beaten eggs and cook until almost set, about 3 minutes. Bake in a 350 degrees F oven until set, 15 minutes.
Salad Whisk 2 tablespoons champagne vinegar and 1/4 cup pesto. Toss with greens and salad toppings of your choice.
Green Beans Toss 1 pound steamed green beans with 3 tablespoons pesto and the juice of 1/2 lemon.

[EasyDNNGallery|319|Width|300|Height|300|position||resizecrop|False|lightbox|False|title|False|description|False|redirection|False|LinkText||]
Pizza Crust
Ingredients:
2-¼ teaspoons dry active yeast (or 1 package)
1-1/3 cups warm water (not too hot or it will kill the yeast, about ~100-115°F)
2 cups all-purpose flour
1-½ cups whole wheat flour
2 tablespoons olive oil
¾ teaspoons salt
1 tablespoon granulated sugar
Directions:
In a small bowl stir together yeast and warm water and let set for 5 minutes as the yeast gets foamy and dissolves.
Add yeast and water mixture to flour, olive oil, salt, and sugar. Stir together then use hands and knead for 7 minutes by hand on a floured, flat surface. Keep adding all-purpose flour as needed, you know the dough is ready when it is smooth and elastic and slowly bounces back after poking it with your finger.
Lightly coat a bowl with oil and set the dough ball in and cover. The ideal temperature to rise is ~80°F so in the Summer I take it outside and leave it on my porch!
Let dough rise for 1-2hrs.
Punch the dough down and separate it into two balls.
Preheat oven to 450°F
Roll out dough to desired thickness (remember it will rise so I always make mine pretty thin). Feel free to fold up the sides if you want a crust.
After adding toppings* bake for 12-15min depending on the type of pizza pan you are using it varies a lot! You want to make sure the bottom center of the crust is cooked well enough before you decide it is done.
*Toppings (like veggies) with a lot of water can make pizza soggy, so sometimes I sauté or bake these toppings ahead of time. I often precook meat, like sausage or chicken, to be sure it'll be fully cooked when the pizza crust is done.
Kelsie's wedding (potted basil) photos are used with permission by Scott Patrick Myers Photography. Thank you!