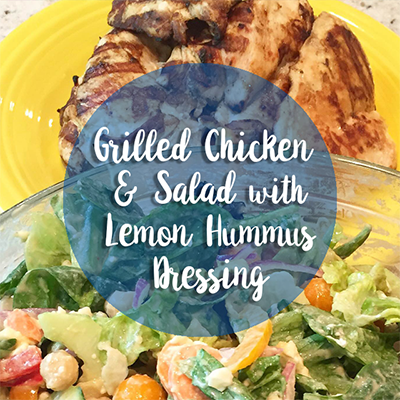 A satisfying summertime supper
[EasyDNNGallery|321|Width|250|Height|500|position|right|resizecrop|False|lightbox|True|title|False|description|False|redirection|False|LinkText||]
Last week, we got a new grill – and it took a good while to put that thing together, so we made sure to put it to use!
We grilled summer squash and burgers the first night and, later in the week, we had my sister over for dinner and made the most amazing grilled chicken and salad, which I wanted to share with you.
My sister loves hummus, so I chose to make a creamy salad dressing using hummus as the main ingredient. One thing I love about the way this recipe turned out is that I didn't add any salt to the dressing or the chicken, but it was still very flavorful.
(If you want to add fresh chopped herbs like parsley or basil to the salad dressing, that would be a great addition!)
After our dinner, we walked to the movie theater (our new house is super close by) to see Finding Dory. Popcorn is my favorite food and whenever I walk into the movie theater I drink in the buttery popcorn smell and entertain the idea of spending money on expensive popcorn.
That night, however, I enjoyed the delicious smells but decided against getting any popcorn because we'd just eaten a super-satisfying meal. I call that a win!
Enjoy this salad (and go see Finding Dory, because it's a great movie)!
[EasyDNNGallery|320|Width|300|Height|300|position||resizecrop|False|lightbox|True|title|False|description|False|redirection|False|LinkText||]

Grilled Chicken and Salad with Lemon Hummus Dressing
Serves 5 large portions
Lemon Garlic Chicken Marinade
5 skinless chicken breasts
2 lemons juiced and peel cut into quarters
2 tablespoons olive oil
2 tablespoons minced garlic
Combine ingredients a gallon-sized zipper bag and let sit in the fridge overnight. Grill the next day.

Salad

1 bag of lettuce (I use ½ Romaine and ½ spring mix)
½ cup garbanzo beans, rinsed from a can or cooked from dry then chilled
2 large carrots, peeled and thinly sliced
1 bell pepper thinly sliced into strips
1 cucumber, roughly peeled, deseeded, cut in half, then thinly sliced
1 cup cherry tomatoes
¼ red onion, thinly sliced
¼ cup feta cheese
Lemon hummus salad dressing (see recipe below)

Lemon Hummus Salad Dressing
½ cup hummus
1 lemon's worth of juice (about 1/4 cup)
2 teaspoons rice wine vinegar
Mix together, add water to thin out (if you want, I keep mine pretty thick). Toss with salad and let it sit in the fridge for about 10 minute before serving.
Nutritional information per serving: 293 calories, 11g fat, 18g carbohydrates, 6g fiber, 37g protein, 341mg sodium