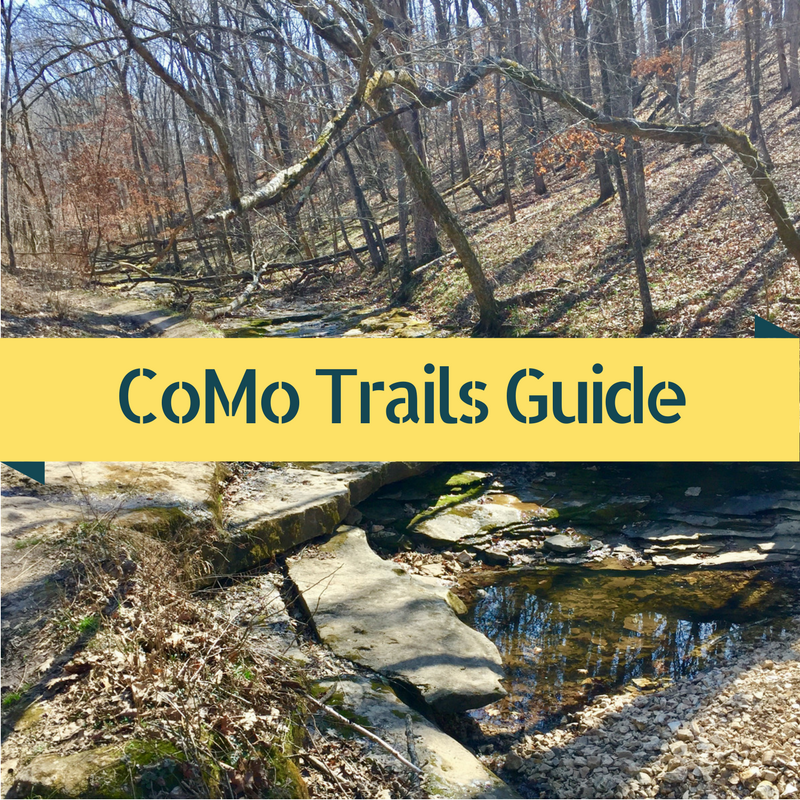 By Kelsie Knerr
Living in Columbia most of my life, if I were to describe it by a few things, I would pick Shakespeare's, MU Tigers, and the gorgeous trails. Spring is almost here, so I want to encourage you to get out and explore some of the pretty nature hikes Columbia has to offer. Some hikes in Columbia can feel like hidden secrets, and they aren't the easiest to figure out unless you have someone to show you them. I hope my super basic maps and handwritten directions are useful and help you explore new parts of this amazing town we call home.
Grindstone Creek Trail
This trail is fully paved (perfect for strollers!) and it is a little over a 5K if you go down and back.
DIRECTIONS:
Parking is easy to locate using the address 2011 Old 63 South, Columbia, MO 65201
Three Creeks Conservation Area
This trail isn't marked very well, but the route is pretty intuitive. There are 2 spots where you cross creeks but if you are strategic, you can get across without getting your shoes wet. At the beginning of the trail stay left at the fork. Toward the end of the loop the trail will end at a gravel road, take a left onto the road from the trail and then take the next left which will bring you back to your car.
DIRECTIONS:
From Boone Hospital take Broadway to 63 South
Stay on 63 South for 10 miles (pass Deer Park but do not go all the way to Ashland)
Take a right off of 63 onto Minor Hill Road (this road makes 2 sharp curves but stay on it until you see the stop sign)
Turn right at the stop sign onto South Myers Lane (this gravel road eventually gives you the option to curve left or go straight, stay straight and park at the dead end)
High Ridge Trail
This trail is mostly grasslands, which is why I love it so much. You really feel like you are in the middle of nowhere. There are also parts that wind through the woods and along a creek (Clear Creek). A few points along the way involve deciding to go one way or another, but you can't really get lost, all directions will lead you back to the beginning. Blue trail markers help you stay along the path (as you can see in the photo of my husband hiking).
DIRECTIONS:
From Boone Hospital take Broadway to 63 South
Take Discovery Parkway Exit
Turn right onto Discovery Parkway
Continue onto East Gans Creek Road
Turn Left onto South Rock Quarry Road
As you reach the end of South Rock Quarry Road (before it meets up with 163) there is a trail parking lot on the left. Park there and then walk across Rock Quarry Road to get to the High Ridge Trailhead. At the beginning you can go either direction, I usually start by going right.