As the Boone Hospital Foundation begins its annual Community Campaign, we thank you for your past support and invite you to join us again this year.  If you are new to the community or were unable to participate in the past, this is your opportunity to join other community members in helping us improve the health of our community.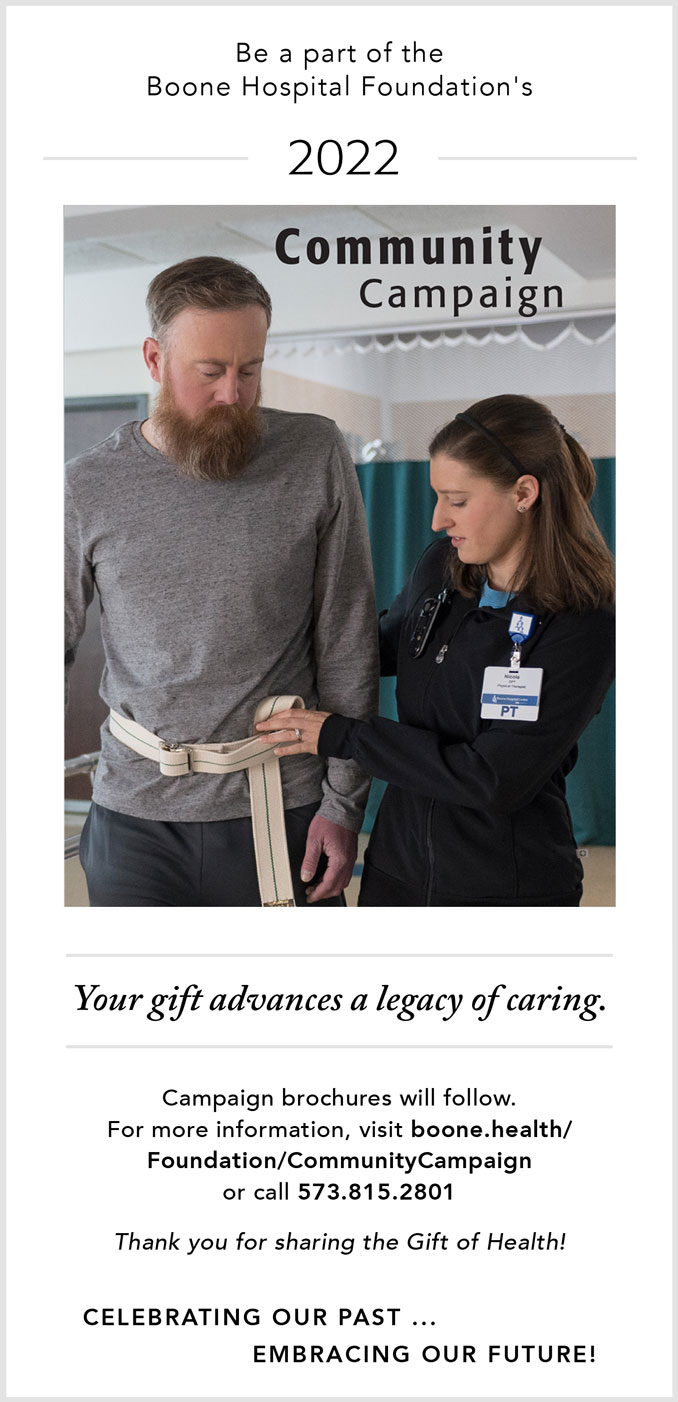 Opportunities For Giving
Boone Home Health & Hospice
This fund provides Lifeline Medical Alert systems for qualifying seniors, as well as educational material for hospice families and home health nurses.
Cardiology
This fund elevates the cardiology program by providing heart pillows for open heart surgery patients and scholarships for caregivers to attend advanced and specialized critical care training.
Caregiver Educations
This fund provides caregivers the opportunity to enhance their skillsets and learn new techniques by attending various educational programs.
Community Outreach
This fund helps provide supplies and educational materials for programs such as the Know Your Numbers Mobile Health Unit including Skin cancer screenings, Lipid Profile, A1C screenings, and Patient Medication Discharge Assistance.
Current Need
This fund helps to fulfill the programs and services at Boone Hospital Center that are in the most need.
Neonatal Intensive Care Nursery
This fund helps provide items for our Intensive Care Nursery including privacy panels, kangaroo chairs and sleepsacks.
Spiritual Care
This fund continues to provide chaplain education and care notes for family members and patients.
Supportive/Palliative Care
This fund provides massage therapy and comfort baskets for palliative care patients as well as room enhancements for our supportive care patient rooms.
Stewart Cancer Center
This fund helps improve the cancer care in mid-Missouri through enhancements to our inpatient services and outreach community education for cancer prevention, detection and treatment.
Stroke Center
This fund helps provide specialized training for caregivers, including Advanced Stroke Life Support training for EMS personnel to help them better recognize, stabilize, and transport stroke patients.