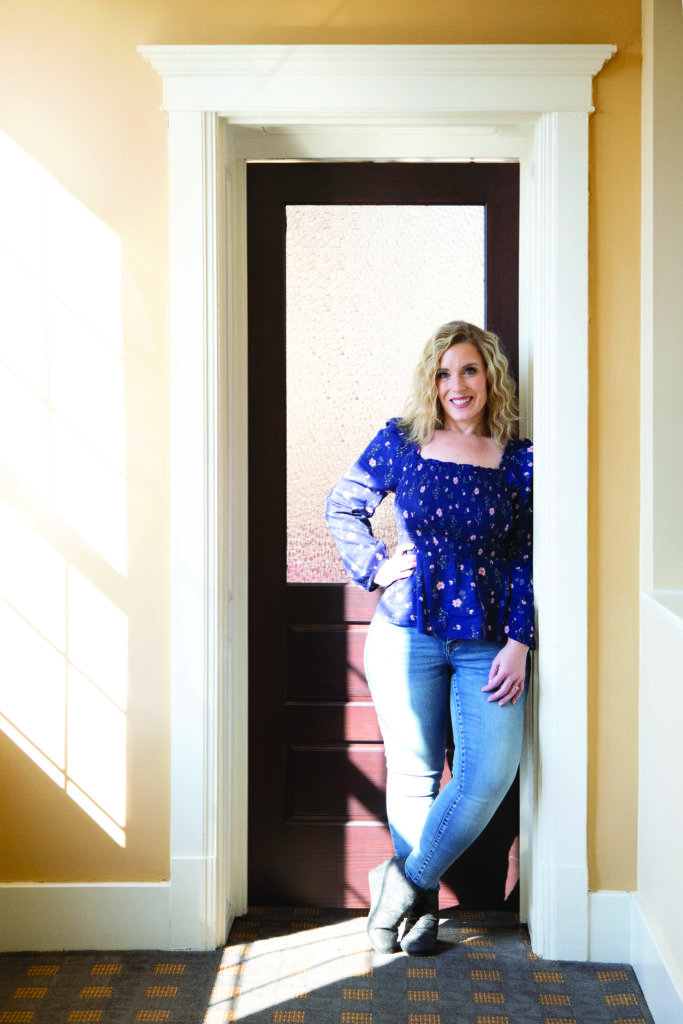 My Weight Was Weighing Me Down
By Erin Wegner
Meagan started struggling with her weight in college. After getting married and having three kids, she couldn't keep her weight in a healthy range. She tried weight loss and exercise programs but was never able to keep the weight off because the programs didn't set her up for long-term weight loss success.
Meagan had thought about bariatric surgery before but didn't know if she qualified and never looked into it further. Meagan later realized she was in denial about her weight. At 5-foot-2, Meagan's ideal body weight, according to Body Mass Index, or BMI, should be between 104 and 131 pounds. At her heaviest, Meagan was 265 pounds, putting her BMI at 47.
"The higher one's BMI, the more at risk they are for cardiovascular disease, diabetes, high blood pressure, high cholesterol, and a list of other conditions," says Jennifer Tveitnes, a registered dietitian with Boone Health Bariatric Services.
In 2016, Meagan and her husband divorced. Now a single mom, she was motivated by the need to keep up with the kids. She also realized she needed to be the healthiest parent she could be for them. Now was the time.
At Boone Health, the bariatric surgery journey starts with an informational seminar that covers the different surgical procedures available, nutritional needs, activity requirements, and what to expect after surgery.
Meagan attended a seminar in September 2017 and signed up for nutrition appointments. At Boone Health, surgery candidates meet with a registered dietitian for seven months before surgery, depending on their insurance company's requirements.
"It was a long process," Meagan recalls. "But I think that's one thing that helped make it successful for me. Because my insurance had those requirements, it set me up for success."
Going through this process helped Meagan realize she was an emotional eater. She adds, "I also realized how much our society circles everything around food — if there's a celebration, you eat. If someone's sad, you eat. You can never just get together with friends and there's not food involved. It was really eye-opening."
The dietitian visits helped Meagan set attainable goals and work on meal plans.
Boone Health Bariatric Services helped Meagan Fansler change her weight and her life.
"It was really good to meet with the dietitian and make those goals ahead of time, just to get in the right mindset of what needed to change in my life prior to surgery. I just tried to make small changes leading up to surgery so that everything wasn't cold turkey."
One of her fears was the stigma that bariatric surgery is the "easy way out" for losing weight. "Don't get me wrong, the weight comes off easily, but it's all the work leading up to the surgery and the self-work that you need to do to make it successful," she says. "It's not an easy fix. I still have to have the control to make the right decisions every day. I essentially had to break up with food.
I learned that food was an emotional thing for me and truly an addiction. I'm fully aware that I was addicted to food prior to surgery."
Before her surgery, Meagan attended Boone Health's weight loss surgery support group, Through Thick & Thin, which is open to people who've had weight loss surgery or are considering it. Meagan found it helpful to be in a room full of people who've experienced the surgery. Members shared different tips and tricks they'd learned for success after surgery.
Meagan had the vertical sleeve gastrectomy, a procedure that reduces the size of the stomach to restrict how much food it can hold.
"Boone Health's entire process set me up for success," Meagan says. "I think Boone has a really great system. They prep you and follow up with you afterwards to make sure you do well."
As a nurse, Meagan is on her feet a lot. Before her surgery, she had knee and leg pain. After she lost her first 25 pounds, all of her knee and leg pain went away.
"I didn't realize until then how much the weight was weighing me down. I thought that the aches and pains were from being on my feet all the time. I didn't realize it was because I was carrying extra weight around."
Meagan has inspired others, including co-workers, to have the surgery and feels confident when talking to people who have questions about the process. "If I can help anyone else achieve their goals by sharing my story, then I'm more than happy to tell people how I did it."
Meagan was only two months into her weight loss journey when she met Kaleb Fansler. After getting to know him more, she shared her ultimate goal with him, and he was super supportive. They married in 2019. Meagan loves that her husband got to experience the journey with her. It's been over two years since her surgery, and her weight has stayed off.
Today, Meagan feels like a whole new person. She tries to stay active and encourages her family to join her. She and her husband enjoy kayaking and other outdoor activities with the kids. Instead of sitting outside watching her kids play, she now enjoys playing with them.
Meagan says the best compliment she ever got after surgery was from her son, who said, "You just seem so much healthier, Mom!"