Boone Hospital Center (BHC) has attained Magnet® recognition as part of the American Nurses Credentialing Center (ANCC) Magnet Recognition Program® for a fourth consecutive time. At the time of our re-designation, only 70 health care facilities world-wide have received this recognition four times. Magnet is the highest honor a health care organization can receive for professional nursing practice.
"This is an incredible honor for the nurses and the entire patient care team at Boone Hospital Center," said Monica Smith, Boone Hospital Center former Chief Nursing Officer and now Chief Operating Officer. "At Boone, every employee takes care of patients – whether in nursing, food service, environmental services or finance. This recognition reflects not only the exceptional care provided by our nursing team, but shows how our entire team comes together to take care of our patients."
The Magnet® program focuses on superior clinical care outcomes by advancing three goals: promoting quality of care, identifying excellence in the delivery of nursing services to patients and disseminating nursing care best practices. To achieve Magnet® recognition, organizations must pass a rigorous and lengthy process, requiring widespread participation from hospital leadership and staff.
"The excellent nurses, providers and caregivers, the excellent patient outcomes and the excellent experience that patients receive at Boone Health are what makes Boone Hospital Center a Magnet recognized organization," says Andrea Fansler, Professional Practice Manger and Magnet Program Director.
Boone Hospital Center was initially designated a Magnet® hospital in 2005 and received the credential again in 2009, 2014 and 2019. Hospitals must reapply for Magnet® recognition every four years.
For more information about the Magnet Recognition Program®, please visit https://www.nursingworld.org/organizational-programs/magnet/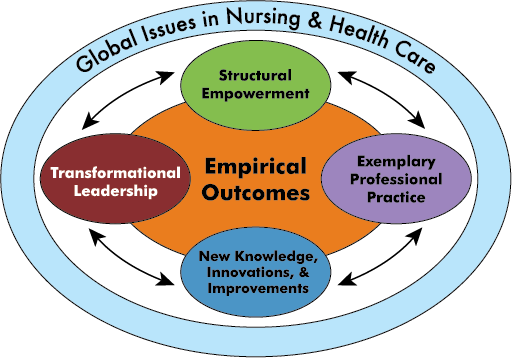 The Magnet Model is the roadmap for the advancement of professional nursing practice at Boone Hospital Center. The elliptical model illustrates the basic components which must be demonstrated at a Magnet-designated organization:
Transformational Leadership
Structural Empowerment
Exemplary Professional Practice
New Knowledge, Innovations & Improvements.
Magnet-designated organizations are data driven and strive to outperform national benchmarks the majority of the time for key quality, safety and satisfaction measures known as empirical outcomes.
The magnetic qualities of the professional nurses at Boone Hospital Center are illustrated throughout the pages of each year's Annual Report on Nursing. 
About American Nurses Credentialing Center's Magnet Recognition Program®
The Magnet Recognition Program® administered by the American Nurses Credentialing Center, the largest and most prominent nurses credentialing organization in the world, recognizes health care organizations that provide the very best in nursing care and professionals in nursing practice. The Magnet Recognition Program serves as the gold standard for nursing excellence and provides consumers with the ultimate benchmark for measuring quality of care. For more information about the Magnet Recognition Program and current statistics, visit www.nursecredentialing.org/magnet.