Josh's Story
Josh White, RN First Assist
Operating Room, Cardiothoracic Surgery
Josh White, RN spends his days saving lives as nurse first assist for cardiothoracic surgery at Boone Health. He is passionate about his job and feels this is what he was meant to do. His journey into health care started years ago as a high school student.
"I was a good student but when I graduated, I wasn't sure what I wanted to do. I ended up taking a job a local hospital in housekeeping. I then became an orderly in the operating room and provided housekeeping services there," says Josh.
Josh's exposure to the operating room as an orderly is what made him decide health care and specifically surgery would be what he would dedicate his life to.
"One of the surgeons in the OR let me observe a surgery one day, and I loved it. They were such a tight knit team working in tandem with each other. I wanted to be a part of that," says Josh.
Josh attended scrub tech school and after graduating he became an anesthesia tech, and then a patient care tech on the oncology floor. Later he became a traveling scrub tech. While traveling, he decided he wanted to become a nurse and he enrolled in nursing school.
"When I graduated, I knew I wanted to apply to Boone Hospital because I knew it was a top hospital. I started working on the cardiology floor," says Josh.
Josh enjoyed the positive comradery his team on the cardiovascular floor shared and it was while he was working on the floor that he heard Boone Hospital needed a first assist nurse for cardiothoracic surgery. A nurse first assist is a nurse who functions as the chief assistant to the surgeon during surgery. The position is highly specialized and includes using surgical instruments and devices and performing surgical tasks directly on the patient.
"I was talking to a physician assistant and I told them they should just train somebody from within. That PA mentioned it to the surgeons and the surgeons actually asked me if I would be interested. There was paperwork and training involved, but that's now my job," says Josh.
Josh loves working in surgery because he knows he is really helping people.
"Surgery is awesome because we're fixing the problem. If you have a bad gallbladder, we're going to take it out. If you have a bad heart, we're going to fix it. You get to leave the OR feeling like you really did something good for that person," says Josh.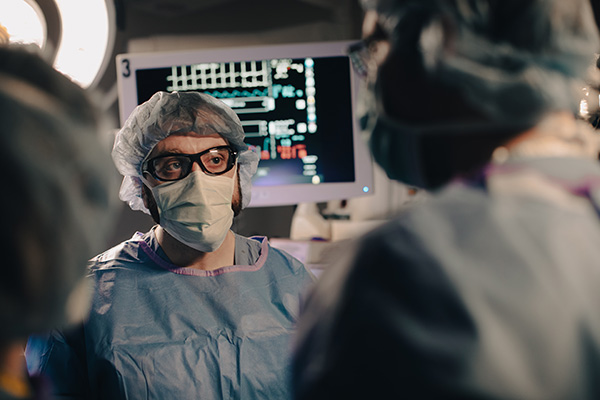 Josh is also passionate about the human side of his work. When he meets the patients, he makes sure they know exactly what's going on and provides comfort to them and their family if anyone is feeling uneasy.
"What I want to convey is that we're on top of our game. I let that family member know that we're going to do our best. We call them during the surgery. We let them know the patient is doing great. We call the family about every hour or hour and half to let them know what's going on. We're not just taking care of the patient on the table - it's the whole family because I know if it was my loved one in there, I would expect that," says Josh.
Josh says both the technical and personal sides of his job are very important to him.
"When I'm scrubbed in at the field, there's nothing else happening except for what's happening at the field. This is my priority. When I'm scrubbed out, talking to the patient, they're it. All my attention is given to them," says Josh.
Josh is now continuing his education working on getting both his BSN and a special accreditation as a surgical first assist.
"You are always learning in this field," says Josh.
Josh says he would recommend Boone Health to anyone looking for a job in nursing.
"I choose to come to work at Boone Health because it is so highly ranked. I love it now because of the people I work with. They're of like mind. They care about the patients first and foremost. The team I work with is exceptional. That's why I can go home and tell my kids 'Hey guess what dad did today? And I can tell them we saved a patient's life.'"