Boone Hospital Community and Medical Fitness Center offers Personal Training and Assisted Exercise sessions by appointment only.  Due to CDC and hospital guidelines, the open gym will continue to remain closed for public use until we can make accommodations to ensure client safety. To get started, download, print and complete the Fitness Center member packet.
Personal Training
Rate
1-hour session: Non-Member
$50
1-hour session: Member
$40
30-minute session: Members and Non-Members
$30
1-hour session: BHC employees, volunteers, retirees
$30
Assisted Training
Rate
1-hour session
$30
Couple and group rates are available: Each additional person pays 50% less. 
For more information, call the Fitness Center at 573.815.3876.
Whether you want to manage your weight, diabetes or blood pressure; improve your balance; increase your strength, flexibility and endurance; or simply stay active, Boone Hospital's Community and Medical Fitness Center's can help you meet your fitness and exercise goals!
How to Get Started
Step 1: Download, print and complete the Fitness Center member packet, which includes a general information sheet; waiver and release; informed consent; health screening checklist; and current medication list. (To ensure we help you develop a safe and effective exercise program, it is important to screen participants for risk factors and symptoms of conditions that may be aggravated by exercise.)
Step 2: Return the member packet to a member of the Fitness Center staff. They will review the forms and may ask you some questions for clarification. If our screening form indicates that you have certain medical conditions, we will notify your physician with a letter to inform them that you have elected to begin an exercise program.
Step 3: We will schedule your first exercise session, which is called an Orientation (required).
Our Facilities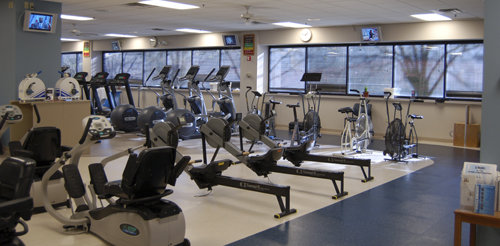 Cardiovascular Machines
Treadmills
Tectrix Bikes and Steppers
Concept II Rowers
PreCore Ellipticals
Monark Arm Ergometers
Airdynes
NuStep Recumbent Steppers
Recumbent Bike
Resistance Machines
Cybex
Free Weights
Miscellaneous items for balance and core strength exercises
Bodycraft Jones Platinum Machine with Full Body Trainer (FBT)